Amplitube and Cubase
Using Amplitube to record guitar in Cubase
Everyone's dream of a fully loaded recording studio is different.
Engineers drool over boards and interfaces, singers fantasize about microphones and preamps, and string players fawn over the perfect acoustics.
For guitar players like you and me, a recording studio stocked with every amp and effect we can fathom is a perfect scenario.
Like anything else in life, however, this unfortunately takes a lot of time and money.
Fortunately for us, there is software out there that can help transform our laptops and small but mighty home studios into, at least partially, the amp collection of our dreams.
Amplitube , made by IK Multimedia, boasts itself as the "world's leading guitar and bass tone recreation software," and it's hard to argue with that claim.
The new software release, Amplitube 3, features 235 pieces of gear (including the models available in the "Custom Shop"), modeling classic amp and effects manufacturers such as Fender, Orange, Dr. Z, Fulltone, Ampeg, and many more.
The software comes in at $199.99, which is a fraction of what many of these individual pieces of equipment cost in the real world.
There are also downloadable expansion packs that allow you to purchase and download extra "gear."
Amplitube can be used in recording in live performance, but for the purposes of this article, we'll be talking about how to use it in the recording studio (or your bedroom) using Cubase as a digital audio workstation, or DAW.
Before we talk about physically recording with Amplitube in Cubase, let's go over a few of the main features Amplitube has to offer.
IK Multimedia has gone to great lengths to recreate some of the most famous effects and pedals used in the last 50 years.
For example, they've taken the classic Boss DS-1 and created a virtual version.
In addition to the sound, Amplitube recreates the look of the original pedals and effects, lending a sense of familiarity to the process.
Of course, these effects and pedals are customizable, just as they would be on a real-life pedal board.
Amplifiers
As far as amplifiers go, Amplitube includes 31 different customizable amps based on their physical counterparts.
For example, here is the "Amplitube British Lead S100," which is based on the famous Marshall 1959 JTM 100 Super Lead.
If you're familiar with the Marshall amp, you'll instantly recognize the classic look: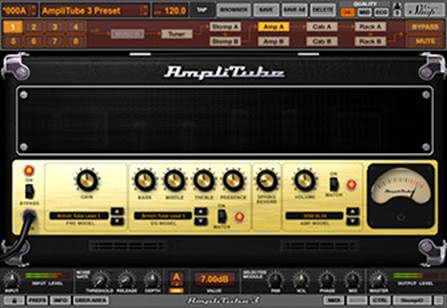 In addition to amps and effects, Amplitube offers a whole plethora of rack effects, virtual cables and recording microphones, and many other customizable options.
You can build a virtual pedal board or a virtual studio right on your own laptop.
So you've purchased the software, created the virtual rig of your dreams, and it's time to record.
Amplitube works incredibly well as a plug-in for any Windows or Mac DAW, but for the purposes of this discussion, let's look at Amplitube in the context of Cubase.
Make sure you install Amplitube as a VST plugin, and you're good to go.
Start by selecting an audio track where you want your new virtual rig to go to work. After selecting the track, go to the left side of the window and select "Insert."
After that, a menu will appear, and select your version of Amplitube.
Your virtual guitar rig will appear and you'll be able to tweak the sounds to your exact preference.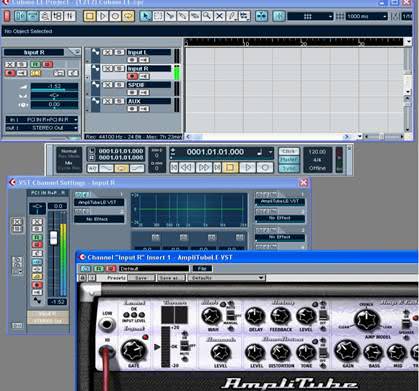 As you can see, the process of inserting your Amplitube effects into your Cubase recording sessions is pretty simple.
Keep in mind that Amplitube isn't the only plug-in available; in today's day and age, there are literally thousands of third party effects that you can use to enhance your projects in Cubase or any DAW.
It is important to note that Amplitube is one of the most popular ways to record on iOS devices.
With a simple tool called the iRig, guitarists can plug straight into their iPhone and iPad and play away.
It is a fantastic practice tool, and can be used in a live performance.
One of the most useful features, however, is the ability to record from within the software. This isn't available on the desktop version, but the mobile version offers a very solid piece of recording software.
While the full version and recording on a personal computer with a DAW such as Cubase continue to offer more features and functionality, the way technology is progressing, these recording programs on mobile devices and tablets are sure to keep getting better and better.