When you first start playing guitar you focus on proper technique, new chords, and maybe some simple riffs. There are so many songs of every genre out there, were should you begin when you start getting the hang of playing the guitar? Below are some examples of songs specifically for electric and acoustic guitar. We are going to stick to pop rock, rock, and folk examples, of course some folks love heavy metal and punk, but let's keep to the more popular genres to start. (In this article we are going to use songs with easy chords, later on we will discuss tablature and songs with easy tabs).
This song is a classic, still popular to this day thanks to the movie O Brother Where Art Thou, in fact this movie caused a huge resurgence in the mandolin and folk music on the banjo and guitar. Big Rock Candy Mountain was recorded by Harry McClintock in 1928, however there is evidence that it may be a much older folk song that he just made popular. This song is the 3 simple chords of C, G, and F in the Key of C and is perfect on the acoustic guitar.
Now some beginners may have trouble with barring the F chord, however that's ok because for this song it sounds ok to play the F as XX3211, the C as X32010 and the G as 320001. It can be played with fingerpicking or for beginners with a very simple strum and sounds best when you pluck the bass note of the chord and then strum the the rest of the strings. It's a perfect campfire song and once you can play one verse, they are all the same from there on out. The F and C chords do eventually change back and forth rather fast, but with practice it comes along pretty quick. "Big Rock Candy Mountain is just a great song to have in your playing arsenal and you will have it down in no time at all.
"Please Mr. Postman" was originally sang by The Marvelettes and later covered by The Beatles and The Carpenters. It's not the greatest song in the world, but it is a fantastic beginner song. Why? Because it is the perfect example of the Doo Wop progression, the chord progression that is I-vi-IV-V, in the Key of G is G-Em-C-D:
This Doo Wop progression is the same for many Motown songs, like Stay, Duke of Earl, Beauty School Dropout, and even, The Monster Mash! Once you know how to play "Please Mr. Postman" you will know how to play many more Motown songs, it's just a matter of changing up your strum. I believe The Marvelettes played the song in thekey of D (D-Bm-G-A) and The Beatles played it in the Key of A (A-F#m-D-E). Whatever key you pick to play it in just stick to that I-vi-IV-V order each time for every line in the verse and chorus and you will have the entire song. Practice different strums, and do your best to put some soul into it as it is a product Motown and Doo Wop! (And don't forget the song can easily be switched for a male or female perspective with a few tweaks of some lyrics!)
It's difficult to find someone that doesn't like Bob Marley, most people are fans of reggae, ska, and rocksteady music. Much of reggae is often not complicated and its signature sound is all about the backbeat on the 1st and 3rd of the beat, instead of 2 and 4 like rock n roll. Reggae is a great genre to play on an acoustic or electric guitar, and the song "No Woman No Cry" is a perfect song to start out with. The entire song consists of the basic chords in the key of C.
Intro:
G C G/B Am7 F C F C G

Chorus:
C    G/B           Am  F
 No woman, no cry.
C    F         C      G
  No woman, no cry.
C    G/B             Am             F
  No woman,       no cry.
  Here Little darlin', don't shed no tears.
C    F         C      G
  No woman, no cry.
G
 Said, said
On the diagram above, you see a chord labeled G/B, which is known as a slash chord. Normally G is 320001, but G/B is X20001, the slash B means that the bass chord is B instead of G. When you play the second string first, the B is the root and bass of the chord. It's a minor change, but one that sounds better. The progression of the song plays over and over through the whole piece and its easy to find a simple strum that fits the song. Learning this awesome song is easy and guaranteed to make your audience happy.
This song by Jason Mraz is a little more recent than the others mentioned so far and a big hit, catchy and a very simple progression throughout. Just like the Doo Wop progression mentioned above, the chords for "I'm Yours" are known as the Axis of Awesome. The progression is known as the Axis of Awesome because thousands of songs share it.
It consists of I-V-vi-IV, so in the case of "I'm Yours" the chords are G-D-Em-C repeated throughout the song except for the bridge. Once you have learned this axis of awesome you will be able to play way more songs than just this one by Jason Mraz. Even if you do not like this song by Mraz, you will surely find one with the same progression that you love!
I am including this last song not just because it is by the great Grateful Dead, but it is a perfect example of a song that can be simple or a little more complicated. If you notice in this link, it is simply chords that you strum, but in the next one it has the complicated bass pattern.
The second example has many slash chords because the song "Friend of the Devil" has a descending bass pattern in the song. And this brings us to an important point, when you are first beginning it is wise to look up as many songs as possible and just try playing them with basic chords you are given. Take the chords you see and flesh out as good strum pattern (sometimes the internet has really bad examples of chorded songs, so you have to use your ear to know what is and isn't right).
As you begin to practice more you want to start adding in more bass lines, intro melodies, and specific riffs. Which leads us to our next article about tablature, tabs allow you to take that "rough draft" of chords and spice it up a bit.
Is this helpful?
Share with your fellow guitar players!
Related posts: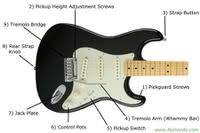 In this lesson, we're going to learn the guitar parts names, how they work and how to take care of your instrument. You'll learn how an electric guitar is built, the name of its body, neck and headstock parts, and how the pickups produce sounds... Read more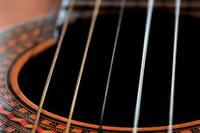 A beginner lesson about basic guitar chords: learn how to play chords in open position, change them smoothly, chords qualities... Read more
Questions or comments? Drop a line below!