How to Remove the Lead Guitar from Songs
And become a better guitar player
Article Update
This article was about Wimbo Music app, which now is discontinued.
If you are looking for a software with the ability to remove or isolate one instrument in a mix , be sure to check Songsurgeon out: a full suite of tools for analyzing and processing sounds in an easy way.
Check It Out Here
I just started learning how to play guitar about a month ago, and so far it has been a really fantastic experience. I'm a techie, too, so I'll try any guitar software out there (thanks to Gianca for the guitar training apps on fachords.com – amazing!) if it will help me learn how to play chords and improve my skills .
One of the biggest challenges I've had in learning how to play guitar actually has nothing to do with learning to play guitar – it's the fact that playing alone really isn't any fun . Once I've mastered a song, I want to play it with a whole band, not by myself. If only I could remove the lead guitar from the song, then I could sub in for Jimi Hendrix and play along with the rest of the instruments like I'm actually Jimi Hendrix.
So I went looking for how to remove the lead guitar from a recording , and as it turns out, you really can't do that. Most songs are only sold in their final version, with all of the instruments and vocals combined into one single track. If you want to go about removing the lead guitar from a song, you actually need the song in multi-track format, with all of the different instrumentals and vocals as their own separate tracks all put together in one.
Then I found Wimbo Music – an app that actually lets you remove the lead guitar from a song. It can also remove the other instrumentals and vocals, but being able to remove the guitar is the most important part for me. I've also started using the app to isolate the guitar, so I can better learn exactly the way I should sound. Once I've nailed it, I switch back to removing the lead guitar from the instrumentals and then I can fill in for B.B. King with the whole band backing me up.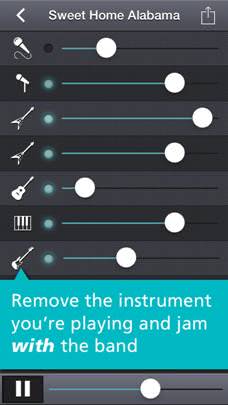 How does this make me a better guitar player? First, isolating the lead guitar so you can actually hear exactly what the chords should sound like is extremely helpful. Even if you can already hear the guitar clearly in the song, it's way easier when there are no distractions from the other instrumentals and vocals.
Second, removing the guitar from the song makes it so much more fun to play that I've started practicing for longer and longer periods of time. I used to get bored in about 30 minutes, practicing and hearing only myself over and over again. Now I can practice for much longer because it's a lot more fun, so I'm getting better much faster.
And, as a bonus, it sounds way more awesome when I'm showing off my new guitar skills to friends if I have the whole band playing along with me.
Wimbo has 20 tracks now (many are blues, so they are relatively easy for beginning guitarists) and they are going to add more on a regular basis, so I'm looking forward to seeing them expand the library of songs that we can play with. In the meantime, I'm loving this great little piece of software and it's definitely in my top list of guitar lesson tools.
You may also find useful this free Online Backing Tracks Generator . A easy to use online tool that allows you creating a chords progression, and visualize on the fretboard the single tones that compose the chords. Useful to develop you guitar soloing skills .
What do you think of the Wimbo Music app? Have you found other ways to remove the lead guitar from a song? Tell us in the comments!
About the author
Brandy Anderson is a beginning guitarist living in Denver, Colorado. She loves technology, music, and any combination of the two. You can follow her on Twitter @denverbrandy .