First Time Here?
Learn How FaChords Guitar Can Help You Improve Your Guitar Skills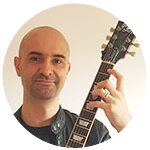 Hi guitar lover! This site has been launched in 2012; there is really so much content created through many years that you could feel a bit lost.
This page will help you find, among the most popular tutorials, what you need, depending on your goals as a guitar player and musician.
If you need help, please do not hesitate to contact me!
Gianca - Founder of FaChords Guitar
Get the Exclusive Subscriber Free Resources
Be sure to request your free access to the exclusive resources: you'll receive our chords, scales and fretboard pdfs and other learning resources, for free. Learn more here.
How Can I Trust This Website?
I understand your doubts, there are a lot of shady things on the web, but just do a quick "fachords guitar reviews" Google search to verify this site. It's been online since 2012 and has helped thousands of guitar players.
I do not sell any personal data or do fishy things; to support the project and pay server bills I sell my complete guitar ebooks, but the rest 99.99% of the site is completely free. Find more info about the step-by-step ebooks here.
Now, make a wish:
I want to improve my fretboard knowledge
Learning how the fretboard works will unleash your guitar creativity. Here are the best fretboard resources:
I want to learn more about guitar chords and construction
Chords are not just static shapes to mindlessly memorize. Here are some resources to advance your knowledge:
I want to advance my solo and improvisation skills
These tutorials will help you break the cage of scale patterns and play better solos:
I want to learn how to assemble chords into cool songs and progressions
Do you know some chords, but you're not sure how to put them together? Learn the secrets of songwriting here below:
---
I want to practice better and more effectively
We can exploit the latest advancement in neuroscience and brain learning behavior to get the most out of our practice sessions:
I suggest starting with the links on this page, then visit the complete lessons map. To your success on guitar!