Reaper
Audio and MIDI recording software
In this era of music production where exists the industry standard heavyweights like Avid Protools, Steinberg's Cubase and Apple's Logic Pro, Reaper gives musicians, both professional and amateur another amazing option. Reaper is very affordable as compared to its rivals but still gives you access to a magnificent virtual recording environment with a full feature set as any other DAW.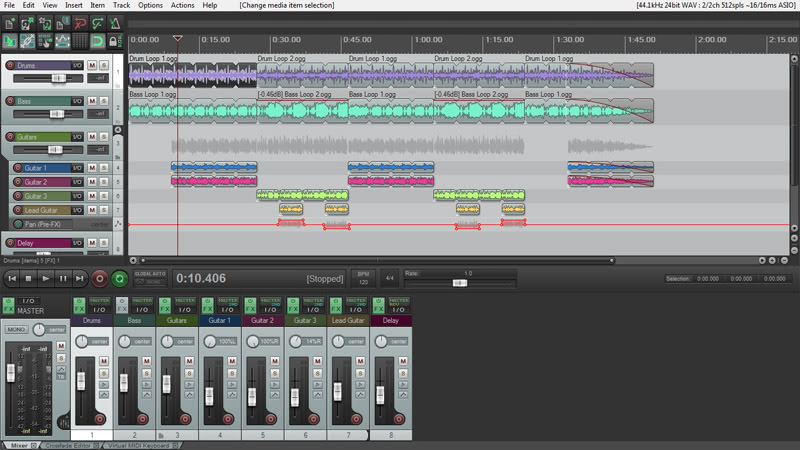 Welcome to Reaper
The fully functional installer of Reaper is fairly small in size, approx. 5 MB which can even be installed as a portable version.
When you first open Reaper it starts with a new project with a main toolbar, transport bar, track control panel, arranger area and Mixer control panel. Reaper's interface is very customizable. You can arrange Reaper windows and toolbars in multiple dockers for example you may want to dock Mixer, Media bay, FX browser etc. in docker to access them easily within your project.
With Reaper installed on your computer, you can import any audio and MIDI, synthesize, sample, compose, arrange, edit, mix, and master songs or any other audio projects. REAPER works with almost any hardware and can be used in combination with a vast universe of other software and plug-ins.
Sequencing
Reaper has a decent piano-roll editor and also an inline MIDI editor which are fully customizable to let you arrange and edit any MIDI parts in whatever way best suits you.
There are other configurable tools like step sequencing, pattern copy/paste, quantization and humanization to aid sequencing and composing process.
Being cross-platform Reaper can load VST and VSTi, DX and DXi (Windows only) and AU (Mac only) plugins. Also Reaper can load JS (user-scriptable plugins). There are hundreds of plugins already available in Reaper, most of them being JS plugins. Many of the built-in effects replace expensive commercial plug-ins, such as ReaPitch, ReaTune, and ReaVoice for pitch correction and modification, a convolution reverb, and guitar amps and cabs. Also bundled are other types of plugins for Delay, Reverb, Compression, filter and sampling. Reaper supports third-party plugins so you can always expand your library with your favorite software synthesizers, samplers or effects available in market.
Working with Audio
In Reaper audio can be punched in and out to record on any track, enabling and switching inputs on the fly, without stopping playback. Loop recording and recording takes enables you to choose from your best performance and gives you a non-destructive multi-track recording experience where you can record and layer take after take, playback and then revisit for correction and manipulation. Reaper also provides excellent drag and drop support to import any supported media format.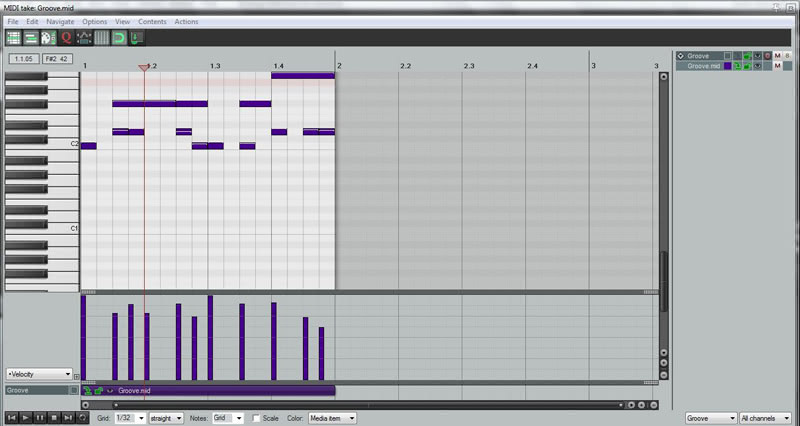 Mixing
Reaper gives you total flexibility for processing and routing MIDI and audio. MIDI and audio can be mixed on a single track. Tracks can have as many as 64 individually routable channels for easy support of multi-out virtual instruments, parallel FX processing, sidechaining, and submixes.
One of the most exiting features of Reaper is its flexible routing. Each track has its own inputs and outputs which can be set using a window dialogue that can be opened from either Track Control Panel or appropriate mixer channel. The output of any track can be sent to other as any track in Reaper can function as a track, bus, or bus folder so any signal can be sent anywhere else. By default, the outputs of all the tracks are routed to Master track in the mixer. When virtual instruments are dragged and dropped in the project all the necessary inputs and outputs are created so you can just start playing.
Pros and Cons
Pros
Reaper is easy for beginners to get started with, yet incredibly configurable for the experienced user.
It has incredible routing options with drag and drop support. The interface of Reaper is fully customizable with a lot of options like the Mouse Modifiers Preferences, and the configurable toolbars/dockers.
Reaper is much cheaper than its rivals and even comes with a discounted license which makes it an incredible value for money.
The fully functional version is available download for trying out which does not have time limitations.
Huge selections of bundled plug-ins. Hundreds of plugins are included and you can even program your own plugins using JS if your requirements are super-specific.
There is no dongle protection required which really makes it easier to work on laptops without worrying to plug in dongle each time.
Reaper can be installed as portable version on a USB stick. So you can actually carry your DAW in your pocket.
The window/toolbar-docking system helps you make the best use of your screen space. This unique feature in Reaper is not present in any other DAW.
Cons
Reaper does not have a built in MIDI list editor and drum editor like Cubase.
Reaper is not very flexible to be used for live performances as it lacks features like Session view of Ableton Live and Performance mode of FL Studio.
It does not have any score editing/printing options available while other DAWs like Cubase and Logic provides comprehensive score editing features.
When it comes to audio editing, you'll need your own audio editor. Reaper provides audio editing but did not include an audio editor separately.
There are no instrument plugins available built in other than ReaSynth which is rather basic synthesizer. It also lacks a sampler.
Reaper lacks features like Groove quantization.
Reaper is a wonderful environment for home musicians, home and commercial studios. It is very convenient to record MIDI and audio. With Reaper you get tons of FX included and support widely available free and commercial VST, AU, and DirectX plug-ins. With an easy-to-use interface, and an incredibly versatile set of user options to fit best as per your needs, Reaper is amazing value for money.