Easy Guitar Tabs | Online Player
Interactive tablature player with songs made easy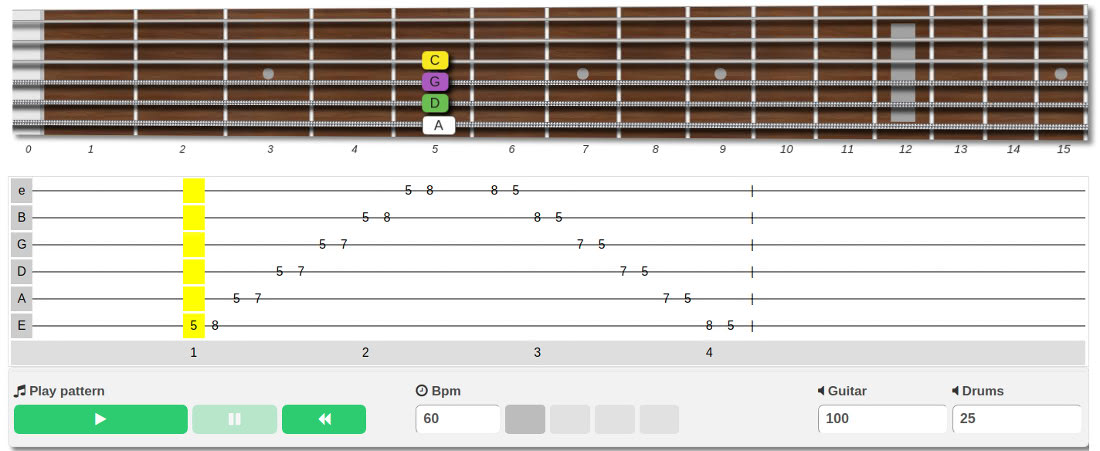 Scales and Chords:
Picking Exercises:
Simple songs:
Guitar tabs are a simple and effective way to write music for guitar. We can jot down chords and melodic lines in an easy way. Of course, we should learn also the classical music notation, but for a beginner, guitar tablature could work well.
On this page, we're introducing a tool that allows you to play simple guitar tabs right in your browser. You don't need to install anything, it works online. This online tabs player does not have all the fancy features of costly software like Guitar Pro, but if you need a simple tool that helps you learn new songs and exercises, it will be helpful.
The tab player has some basic features, and this makes it very easy to use:
Play the tab
Pause the tab
Rewind the tab
Set the speed: normal, a bit slower, half-speed
On these tabs, you'll not find all the esoteric symbols that a complex tablature sheet could show (bending, sliding, muting and so forth), but only which frets and strings to play. Anyway, if you want to deepen your tab notation knowledge, check out our tutorial on how to read guitar tabs.
Are you ready? All you need to to is to select a song/exercise from the list above, and enjoy the tab!
Is this helpful?
Share with your fellow guitar players!
Questions or comments? Drop a line below!