FaChords Chords Progressions Generator
This tool allows you to quickly create a chord progressions and visualize the chords tones

Loading app...
P.S. To make the most of this learning tool, download the related Guitar Ebook (100% free)
Has This Site Helped You? Please Read This! (and Get Awesome Ebooks)
Since 2013, FaChords Guitar has grown a lot (12.000 subscribers and counting!) and server bills are getting bigger every day, so, to keep the site free for everybody, I'm following the Justin Guitar Honor-System: if you can afford it, please consider supporting FaChords Guitar by buying the ebooks: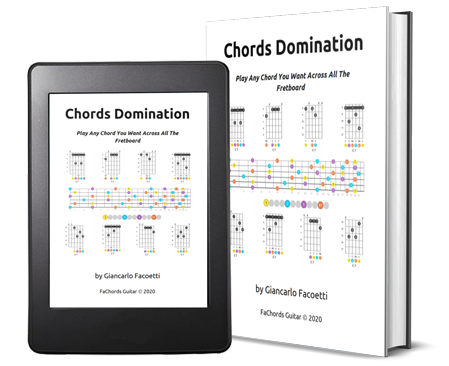 This ebook is for those players who want a deeper understanding of the chords they are playing. You'll find more than 800 chord voicings all along the fretboard that will help you learn how to move freely on the neck and play any chord you want in any position.
The book is packed-full with color-coded diagrams that show chord tones, note names, and finger positions, a handy visual chord formula table, and the tones fretboard maps of 44 different chord types.
Chord Progressions Generator
Improve your improvisation skills
A useful strategy for playing great solos is using the tones that compose the chords of the background harmony as main notes of your melody. This tool allows you to create a chord progression and display the tones of its chords directly on the fretboard.
Create a chord progressions selecting among more than 20 different chord types.
See the tones of the background harmony displayed on the fretboard
Use these tones as main notes of your melody, and add passing notes depending on your taste.
To learn how this tool works, check the Chord Progressions Generator introduction.
For more tutorials and resources check the lessons section on chord progressions.
If you're looking for a structured guitar course, that can help you improve your skills step-by-step, check the new best online guitar lessons review guide
For feedback, requests or questions send a message here.