The Story of Django Reinhardt
The Father of Gypsy Jazz Guitar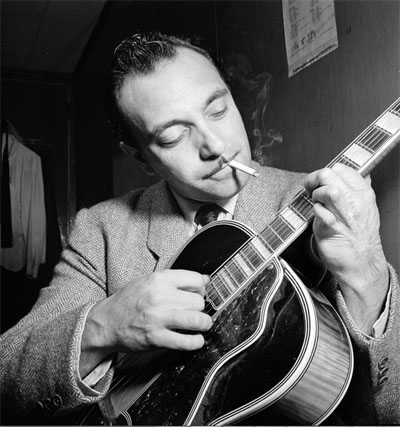 When Jean Eugene Weiss and Laurence Reinhardt, a duo of circus performers from a gypsy encampment on the outskirts of Paris, welcomed their newborn Jean "Django" Reinhardt into the world on the 23rd of January, 1910, there was no way they could have known what their little boy would go onto accomplish in the world of jazz guitar: the creation of Gypsy Jazz
Yet over a century since his birth, Django Reinhardt is still heralded as one of the most innovative and iconic jazz guitarists of all time
. An eccentric but impassioned musical genius, Django's musical career encompassed hundreds of recordings and some of his tunes like "Minor Swing", "Daphne", "Djangology" and "Nuages" are now regarded as quintessential jazz standards.
However, if not for a cruel twist of fate, Django's forays into the world of jazz guitar might very well have not occurred at all.
Although his heritage was that of a gypsy circus performer, Django's passion for music was evident to his family and friends from a very young age. One of Django's neighbors, moved by Django's passion for music, bought him his first musical instrument, a banjo , when he was 12 years old.
Without access to any sort of formal musical training or education, Django had to make do with what he had at his disposal, so he taught himself to play the banjo by watching other musicians play and copying their fingering patterns.
This might sound like a seemingly impossible task to most, but Django got so good, so fast that by the time he was 17 years old he was earning a living playing the banjo with various musical groups and as a session recording musician for accordionist Jean Vaissade.
It was around this period of Django's life that tragedy struck.
On a cold November night in 1928, the newly married Django had just returned from playing a gig to the caravan that he and his wife shared, when he heard a noise that he thought was a mouse.
Django's wife at the time helped the young couple earn a living by making celluloid flowers, and Django while searching the caravan with a wax candle accidently set fire to his wife's whole stock .
Within minutes the entire caravan was a raging inferno, and although Django and his wife were pulled to safety, Django suffered gruesome burns on the fourth and fifth fingers of his left hand as well as the lower right half of his body.
When rushed to hospital Django's doctors advised him that would have to amputate his right leg and told him that he would probably never play a musical instrument again.
Django, however, in true gypsy spirit disregarded the doctors' advice and chose to recuperate at a nearby nursing clinic.
During this recovery period, Django's brother introduced him to the guitar . Django immediately fell in love with the instrument and spent his eighteen months of recovery reengineering his fingering technique around the two fingers in his left hand that he could still move freely.
The tendons of his fourth and fifth fingers had been so badly damaged in the fire that the fingers curled permanently towards his palm. And although he could use them to construct chords and play octaves on his guitar's first two strings, he was forced to base his entire soloing technique on his index and middle fingers .
It was also around this time that Django was first introduced to Jazz music through legends such as Duke Ellington and Louis Armstrong , and he was smitten from first listen. In fact, it's said that when Django first heard recordings of Louis Armstrong he was moved to tears and had murmured mon frèr, or "my brother".
Discovering jazz music gave Django's musical career a new lease of life. He had finally found a style of music that appealed to his melodic sensibilities, technical perfectionism and new playing style.
In 1932, Django then met Stéphane Grappelli , a French violinist and pianist whom Django immediately felt a musical kinship with.
The duo went onto form what was known as Quintette du Hot Club de France (Quintet of the Hot Club of France), a group which would blossom into Europe's leading jazz ensemble.
And although the entirely string-based quintet initially had trouble finding a label that was willing to record their music, they finally struck a deal with the lesser known label Ultraphone for their first recordings.
These initial recordings were a humongous success and the Quintet went onto record hundreds of sessions with the label .
Soon the Quintet and especially Django were regarded as European musical royalty.
In fact, the newfound money and fame was nearly too much for Django to handle sensibly. He spent most of his earnings buying elegant outfits and living a lavish lifestyle.
Django is even reported to have lived in a posh French hotel with his pet monkey and second wife during this period.
Django's musical career was struck another blow, however, when World War II broke out in 1939.
When war was officially declared Django and the Quintet were touring England. Django, fearful of a raid on England fled back to France, leaving the Quintet and his musical partner Stéphane back in England.
And although many European gypsies were systematically murdered by the Nazis during the war, Django managed to survive thanks to the protection of several jazz-loving Nazi officers.
As the war drew to a close, Django rejoined Grappelli and reformed the famed Quintet for a slew of new performances and recordings.
In 1946 Django was even invited by Duke Ellingon to tour the United States.
And although his performances in the States were a resounding success, the nearly illiterate Django who could not speak a word of English and could barely read and write French, found the culture shock too much to handle and returned to France in February of 1947.
Upon his return to France Django seemed increasingly disenfranchised with the post-war world and started developing a reputation as somewhat of an unreliable performer.
He would sometimes show up for performances without a guitar and on some occasions not even show up at all.
And yet, his sheer musical genius carried him through the latter stages of his career and he recorded some of his finest work around this period with producer Norman Grants.
It was around this time that Django was offered a chance to redeem his American dream.
He was invited to perform alongside legends like Billie Holliday, Dizzie Gillespie and Charlie Parker at Jazz at the Philharmonic , but sadly this dream would never become a reality. On the 16th of May, 1953, Django Reinhardt suffered a fatal stroke while walking home from a performance at a Paris club.
He was declared dead on arrival at the hospital in Fontainebleau.
Those who knew Django during his lifetime admit that he was an eccentric musician at best and a temperamental nightmare to work with at his worst .
It is said that he would sometimes even stop halfway through a performance if he felt like the audience wasn't paying enough attention.
But he is also famous for playing for hours on end, tirelessly and passionately if he felt that at least one audience member was listening carefully.
And it is this passion, fervor and peculiar genius that will ensure that Django Reinhardt is remembered fondly by guitarists from generations to come .