How To Play Melodic Lines with Dyads
Two Notes Chords that Add Harmony To Your Solos
In this tutorial, I want to share some ideas about dyads, two notes played together.
Unless chords, that are composed of three or more notes, dyads are small fragments that you can include in your lead phrasing to enrich it harmonically.
Another name, actually more common, for dyads is double stop; in this tutorial we'll use the term dyad, but feel free to swap it with "double stop".
Please have a look at the demonstration video below, and keep reading for more details.
How To Play Dyads
Let's have a look at the scale I used in the video, the F Mixolydian scale:
F G A Bb C D Eb F
If we harmonize this scale, by stacking third intervals on the top of each note (here you find a complete tutorial on how create chords from scales) we get the following chords:
F maj
G min
A dim
Bb maj
C min
D min
Eb maj
C (5)
A (3)
F (1)
D (6)
Bb (4)
G (2)
Eb (b7)
C (5)
A (3)
F (1)
D (6)
Bb (4)
G (2)
Eb (b7)
C (5)
A (3)
F (1)
D (6)
Bb (4)
G (2)
Eb (b7)
If we keep only the root and the third of these chords, dropping the fifths, we obtain "two notes chords", or dyads, composed of major or minor intervals.
Remember that a minor interval is 3 half-steps, or semitones, while a major interval is 4 half-steps (more about intervals here).
F maj
G min
A min
Bb maj
C min
D min
Eb maj
A (3)
F (1)
Bb (4)
G (2)
C (5)
A (3)
D (6)
Bb (4)
Eb (b7)
C (5)
F (1)
D (6)
G (2)
Eb (b7)
Please notice that the A diminished chord, which is composed of root, minor third and diminished fifth, has been transformed in a A minor chord, because the diminished fifth, which is the unique characteristic of this chord type, is gone.
Play With Dyads - The Basic Idea
The idea is, instead of playing single notes, is to play the correspondent dyad.
So, for example, on the root, F, we play F and A, which is a major third and thus creates a major sound.
On C, we play also Eb, which is a minor third, so we have a minor chord, and so forth.
Riff 1
In the video above, the section Riff 1 shows you how to move up and down a scale by playing diads.
You'll notice that I play the scale horizontally, on one single string. The only difficulty is to switch major and minor dyads as needed.
Regarding the fingering, I use the index finger for playing the roots (the notes in the scale), the middle finger for major thirds, and the ring finger for minor thirds.
The Main Types of Dyads on Adjacent Strings
So far we talked about minor and major dyads, but we can also use fourth intervals, fifths intervals (the power chord!), even diminished fifths: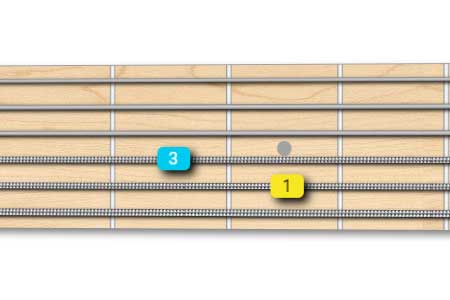 Major third dyad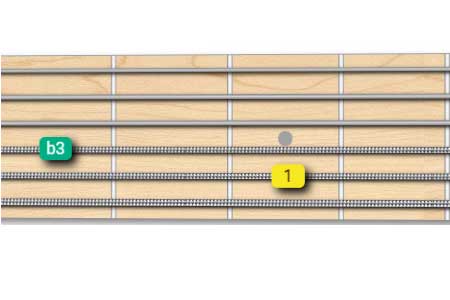 Minor third dyad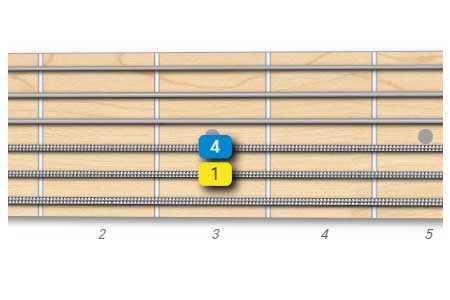 Perfect fourth dyad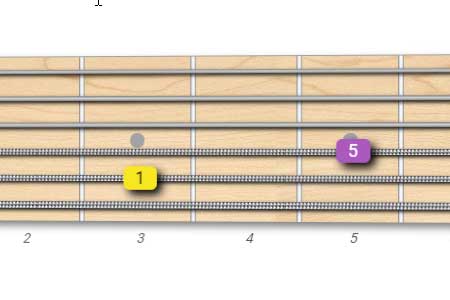 Perfect fifth dyad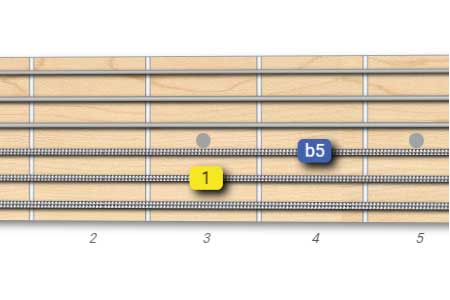 Diminished fifth dyad
Riff 2
"Riff 2" part of the demonstration video shows you how to use all these kinds of dyads to conceive something more interesting and dynamic. In particular, the use of the diminished fifth introduces tensions that resolve in a pleasant way on the major third.
Where To Go From Here
We have only scratched the surface of the options that dyads could introduce in your phrasing.
Here are some more suggestion for experimenting:
If you have a bass player that plays the root, play dyads built with the third and the fifth
Use shell chords as base structure for your dyads, and play root and seventh, or third and seventh
Play dyads on non-adjacent strings: using wide intervals creates a very nice effects
That's all for today, if you want to stay updated on new learning material don't forget to subscribe here.