Riffmaster Pro Review | Software To Slow Down Music
Why using a slow down software could make you a better musician
One of the best ways to improve our musicianship is to listen to our favorite tunes and try to play them correctly. Nowadays tons of ear training apps and many guitar learning software are available, but nothing can beat the old-fashioned way to practice along with our preferred artists.
Article Update: what happened to Riffmaster Pro?
This article was about Riffmaster Pro, which now is discontinued.
A better alternative is Songsurgeon : a full suite of tools for analyzing, processing and slowing-down songs in an easy way.
Check It Out Here
Here's an epitomizing example: Frank Zappa hired an 18 years old Steve Vai after the Guitar God sent Mr. Zappa a recording with some of his music transcribed perfectly (and with an additional version played at double speed, but this is another story). Reproducing such complex music undoubtedly helped Steve Vai develop his incredible skills.
But sometimes reproducing music without a score could be frustrating : some passages are too fast , or we are not able to understand well the moving parts in an intricated harmony. In this case a software to slow down music could be helpful (if you are not Steve Vai)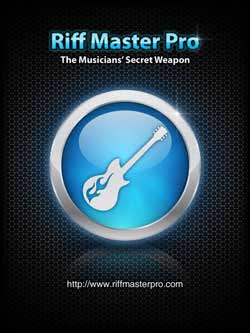 There are many different time stretching apps and software these days. In fact, if you use a DAW - Digital Audio Workstation it is likely it has the capabilities for time stretching. However, for the regular guitar student it is more realistic to find some simple and affordable ways to slow ... your ... audio ... down. Because when we slow a song down it makes it a thousand times easier to figure out how to play it on the guitar. In this article we're going to take a look a popular slow down software, Riffmaster Pro .
How Riffmaster Pro works | Full Review
Riffmaster Pro is very straightforward and easy to learn . As soon as it is installed and opened you click on the plus sign and load a song. It takes a variety of files that can even be dragged right onto the screen. I simply clicked on my iTunes and picked a song to load.
You can begin playing the song from the start or easily select a loop . Simply click on the waveform file and highlight exactly where you want the loop to start and stop. If you wish to delete a loop region you have made, it's a matter of pressing delete or backspace. These loops can also be exported to other apps and audio software.
The speed and pitch functions are rather obvious and allow you to slow down the song to the desired speed and semitones. These along with the vocal reduction ability are the most important aspects of this software.
Riffmaster Pro Review: slowing down The Rolling Stones
One of the first songs I loaded into Riffmaster Pro was The Rolling Stones song " Can't You Hear Me Knocking ", a go to favorite of mine. Within a few seconds I was time stretching the famous intro riff to about -45 , which slowed it down perfectly. My first thought being, I wish this software was around when I was a kid .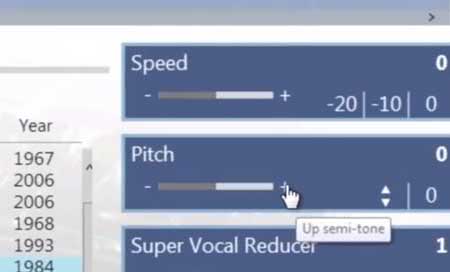 My second thought was that Riffmaster Pro will pair well with tabs, often when trying to read tablature it helps to hear the music. With this software you can load the music right up and slow it down to pay along with tabs! (In fact now that you can slowly and more accurately pick out the notes of a tune it will be easier to tell if you have some bad tabs ).
Because it is so easy to load a song, it can be very addicting . My first few times using it I spent a little less time practicing and too much time slowing down songs. It helps break down musical parts , even ones not on a guitar. If you happen to have a toddler at home, you will get a lot of laughs when you load a song they like and drastically adjust the speed and pitch!
Riffmaster Pro also has a Super Vocal Reducer , which will lower the vocals depending on the song. Keep in mind it all matters how the original song was mixed and mastered, but the Super Vocal Reducer usually does a decent job of at least decreasing the vocals by a little (it is usually almost impossible to completely take vocals out of a finished mix).
Riffmaster Pro runs on Windows 7, Windows 8, Vista, Windows 10, and Mac OSX 10.5 and above.
Songs can easily be loaded into Riffmaster Pro under the audio formats MP3, WAV, MP4, WMA, AIFF, FLAC, M4A, and CDA .
Pitch and speed parameters can be adjusted independently. Back in the day when you would slow the speed down on a song it would also change the pitch, Riffmaster Pro keeps the pitch the same unless you wish to change it
Making adjustments is quite simple with basic functions such as rewind, fast forward, play, and stop . The speed and pitch can be adjusted manually with simple + and – controls. The pitch allows for adjustments of two octaves in both directions.
It does have a few limitations. It is not available for Android and does not support video files . Also the waveform amplitude cannot be adjusted so songs that are heavily compressed are harder to make out waveform changes. (These days many songs are unfortunately heavily compressed!) Also extreme pitch shifting may lead to pitch artifacts . Which are basically discrepancies in notes once the pitch has been shifted. However, real extreme pitch shifting usually isn't necessary for learning a song on your guitar.
Riffmaster review: a perfect software to slow down music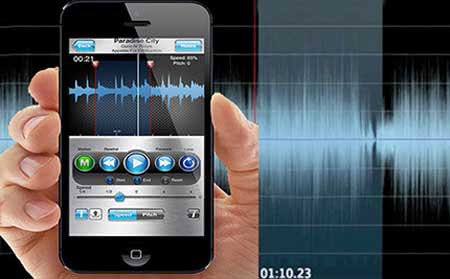 One of the obvious points of this software is that it is only useful if genuine effort is put forth . Riffmaster Pro works like this; you sit down at a designated time every couple days with guitar in hand, load a song into Riffmaster and start practicing. I find that if I turn the speed all the way down it can be a bit too slow, so each song needs a little tweaking on which speed works best. By looping parts of the song you can practice specific sections until you get each one down.
At the time of this writing the Riffmaster Pro was running a promotion and only cost about $34 . The iPad app was running at $6.99 , both prices reasonable for the amount of use this app could bring.
Riffmaster Pro, like most music software, has a 10-day free trial . For those 10 days you can use it on demo mode, a great way to find out if you will stick with it or not. For those guitar students who really put the time into practicing, this software is a no brainer. It's an app that should always be open while practicing so you can load a song and use it as a reference. Even if you are practicing for your own band you can always record live audio and later pop it in Riffmaster to slow it down and play along with. I would highly recommend downloading the free trial and giving it a test, I think many guitar students will find Riffmaster Pro to be an excellent and affordable addition to practice time!
Pictures and videos courtesy of riffmasterpro.com