Song Surgeon Review
A multipurpose software for the modern guitar player
As a musician there are times where you need some help dissecting a song . As a beginner it can help in finding the key, chords, tempo, and at times even slowing the music down so you have a better chance of learning it.
Even if you are an advanced player there are times when songs seem a little difficult to analyze . It is possible to look the chords of a song up, but they are not always right. And while DAWS have some analyzing capabilities, they are also limited.
What you need is a dedicated piece of software that is built for the sole purpose of examining the contents of any tune. Today we will be reviewing a program known as Song Surgeon 5 , and just like the name says it allows us to get into the anatomy of a song. Not only will this software help us figure out what our audio is made of , we can also use it to make changes to our music. First let's breakdown exactly what Song Surgeon is capable of doing.
The software known as Song Surgeon was originally released in 2007 and is still going strong into its fifth version. As the name suggests it is literally a tool to help you find all the most important info of a song. The process is very simple, you upload the audio track and it takes it from there.
This of course can have a variety of uses depending on your specific needs for each song. It doesn't matter what instrument you play or your ultimate goal in dissecting the music, regardless of your musical needs Song Surgeon has you covered. Below are some of the specific parameters to be discovered in each song.
To start, a nice metronome
Ok, there is nothing special about a metronome in software, right? Yeah it is true that metronomes are everywhere, and they seem to be included in all music software. Ironically though many musicians still don't use them enough. When you are examining a song, especially one you may have written, the first thing to make sure is that your timing is right!
Metronomes are nothing special, but they are so very essential . Whether learning a new song or composing one, mind your timing!
You can detect the BPM of a song
As soon as you upload a song it will immediately detect the beats per minute. Once it detects the BPM it will create a click track to be placed in front of your audio file. Of course not only will the BPM be detected it can also be manipulated. Whether you want to slow it down for learning purposes or simply speed up an original song it works seamlessly.
You can detect (and change) the key of a song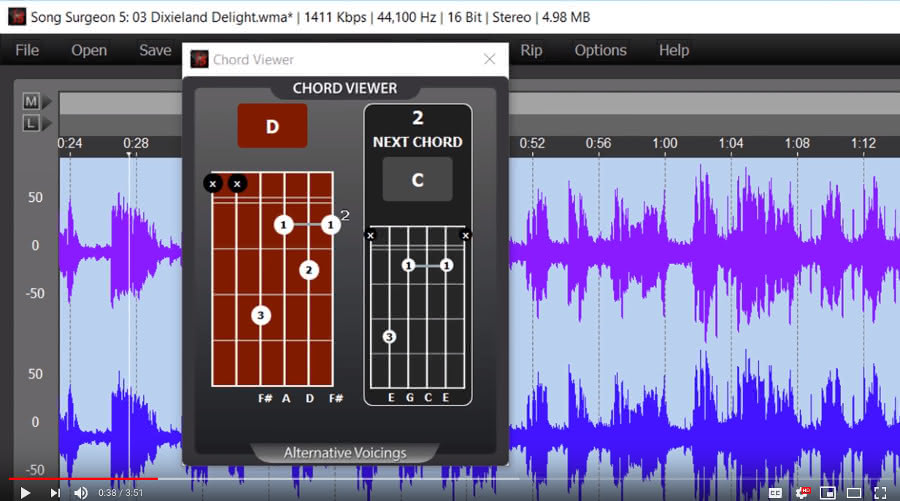 If you are new to music and have a little trouble figuring out the key to a certain tune, Song Surgeon finds it instantly. No more guessing what key it is and if it changes at all during the song. Of course once you find the key you can also change it with this software . Keep in mind that changing the key of backing tracks will likely sound better than vocals.
You can detect chords in a song
Like key detection, chord detection is a great skill to have when it comes to ear training. And this software is a great place to start that training, as it will help break down the chords that make up the song. Whether you need a quick version to play in a cover band or are trying to figure out the chords to a particularly difficult song, it's as simple as loading an audio file.
You can edit audio like a simple DAW
There is also an audio editing menu for making basic edits like fade-ins and fade-outs. It doesn't have all the editing features of a larger DAW , but you can take care of quite a bit in the "detail editing" pop up menu.
You can slow down a song to the speed you need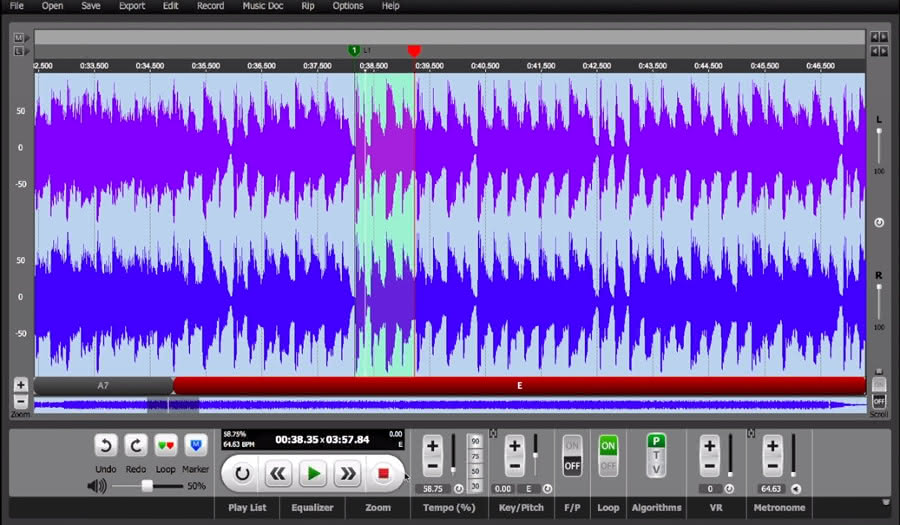 Of course one of the best features is the ability to slow a song down, this is not always available in key and chord detection software. However in Song Surgeon you can slow the audio down while learning songs , solos, riffs, and various picking techniques. Slow it down to the speed you need, adjust the key, and practice at your own pace!
Song Surgeon also offers these other great features; it can strip audio from most videos , it can transpose an entire song with just a click , it has most basic DAW features, and it has vocal and instrument isolation technology. Now in many cases it is impossible to completely strip vocals or instruments from one another, but Song Surgeon will get you as close as possible.
Should I Buy Song Surgeon?
That decision will rely on a number of factors. If you do not have a DAW and have no way of slowing audio down, well it is worth buying Song Surgeon for that aspect alone. This software is also very handy if you find yourself selling stock audio or other music to customers.
It is very common for a client to want music that sounds just like "whatever example is popular." Of course it's wrong to copy but dissecting another song will help you mold the tune into a similar but new style. Unfortunately a working musician doesn't always mean creative freedom.
It can help you in a lot of situations
Even if you are not making money as a musician, if you just spend much of your life with an instrument, then it is also great software to have . It actually kind of helps with ear training, by breaking down the songs you pay more attention to chords and keys.
After playing a song I recorded I noticed the guitar chords seemed off, however it was detecting my guitar and vocal notes mixed together. Some simple adjustments in the notes I used led to a much better arrangement and sound, something I never would have noticed without Song Surgeon.
Before you decide if it is right for you, try the free 4 hour demo . It is a very short demo so make sure to only keep the program open while in use. Get a few songs ready to go and after installing Song Surgeon load them up and experiment.
If you wish to use it for audio slowdown and speed training, make sure you are comfortable with the workflow. After the demo is done you will have a good idea of whether this software will be valuable addition to your musical future. In the meantime enjoy dissecting songs into as many pieces as you want!
Are you already a SongSurgeon user? Please write what you think about this great piece of software in the comments below!