Steinberg Cubase
Music production software on your PC
Cubase is a Digital Audio Workstation developed by German musical software and equipment company Steinberg for music sequencing, recording, arranging, editing and mixing.
Cubase provides you all the advanced tools you need to record multi-track audio and MIDI, edit, mix and master your music.
Steinberg Cubase has a long history in the music production industry.
The first version of Cubase was developed to be used on Atari ST and later on developed to be run on Microsoft Windows and Apple Mac.
Since its inception with Cubase 1.0 Atari several different versions have been released like Cubase VST3.0, Cubase SX and more with the latest being Cubase 7.5 which is one of the most advanced tool for MIDI composition with virtual software synthesizers , a flexible environment for recording audio and even to be used for post-production purposes.
Steinberg has also invented the revolutionary Virtual Studio Technology (VST) format and ASIO system.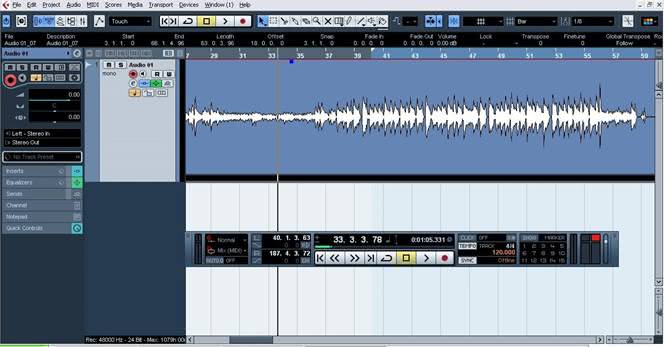 User Interface, features and Workflow
So what can you do with Cubase? Cubase allows you to create projects.
You can either create a new empty project or choose one from several templates or open an existing one.
The Project window is the main window in Cubase.
This provides you with an overview of the project, allowing you to navigate and perform large scale editing. Each project has one Project window.
The Project window is divided vertically into tracks, with a timeline running horizontally from left to right.
You can have Audio track for recording and playing back the audio and Instrument and MIDI tracks for loading VST instruments and handing MIDI.
You can also add other kinds of tracks FX track for loading effects , folder and group tracks, video track depending upon your project needs.
Every track has an Inspector that offers transpose, quantize, length, and other useful tools for easier access. There is also a customizable floating Transport Bar for controlling Playback and Transport functions in Cubase.
Cubase's new MixConsole adds an array of powerful new mixing functions. The mixer offers a common environment for controlling levels, pan, solo/mute status etc. for audio and MIDI channels as well as setting up audio and MIDI effects.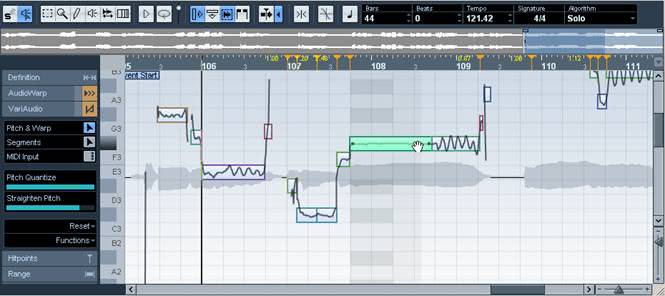 Cubase has many notable tools which provide innovative ways for composing, music notation, recording, editing and mixing.
Cubase provides powerful tools to write down musical ideas, MIDI composing and sequencing.
With the Key Editor anything can be done during playback, including switching editing tools, deleting notes, and adjusting other notes.
Score Editor is a notation tool with comprehensive symbol support.
It also supports lyrics, drum notes, guitar tabs, and lead sheets, and can import and export XML files.
The Drum Editor and List Editor also do their job well for editing rhythm and MIDI events, respectively. Cubase 7 introduced a new Chord Track feature that enables musicians to explore harmonic progressions in different ways.
For Editing purposes Cubase comes with a Sample Editor which allows you to view and manipulate audio and other advanced features like tempo detection, audio quantization, and drum replacement.
Cubase offers some of the top-notch features that distinguish it from other DAWs . VariAudio feature offers completely integrated vocal editing and pitch alteration of individual notes in monophonic vocal recordings and there is a VST Expression feature to control musical articulations.
Cubase's new mixer provides customizable track icons and track notepad and also supports drag-and-drop throughout the mixer.
You can mix in stereo or surround with Cubase's surround-capable architecture. You have full control over automation, side-chaining and with the high-end channel strip for each individual channel; you can sound better and produce beautiful mixes.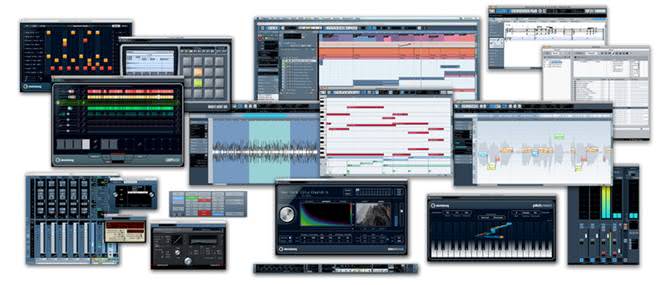 Whether you are a singer or songwriter, composer, electronic music producer, mix engineer, sound designer or beat producer , you can always go along with Cubase. Cubase offers everything needed to convert inspiration into a final mix.
Cubase delivers a wide range of finest virtual instruments and each of them comes ready to play with hundreds of fantastic preset sounds.
Almost every kind of virtual instrument is included which you might need for your music. Plugins like HALion Sonic SE – a VST workstation with tons of sounds, Groove Agent – a drum sampling plugin, LoopMash – a revolutionary tool for working with loops and beats to create stunning new rhythms and grooves truly inspires your creative workflow.
You can never go out of sounds with the wonderful software synthesizers like Prologue, Spector, Mystic, Embracer and Monologue.
Also included are excellent plugins to add outstanding effects to your music
. Almost every kind of effect comes bundled with Cubase whether it is EQ, Filter, Dynamics, Distortion, Reverb and Convolution, Modulation, Delay, Pitch, Mastering and more.
You can always expand you plugin library by third-party VST instruments and effects.
Before putting it altogether, let's look upon the pros and cons of the program.
Cubase's piano-roll-based Key editor is arguably the best of its kind.
Note Expression is one of the most exciting sequencing tools to appear in recent years.
Certain audio editing tasks are significantly easy because of features like AudioWarp and VariAudio.
Many, many refinements make the program pleasing to both look at and use.
MixConsole adds an array of powerful new mixing functions.
The Chord track is deeply integrated into many aspects of the program and aids the process of composing in many ways.
Beautiful new mixing console provide intuitive, flexible recording environment.
Comprehensive editing, automation and virtual synth support.
Rich and robust set of bundled plug-ins.
Cubase is Cross-platform - It's available for Windows as well as Mac.
Although this is the most comprehensive DAW so far, it does suffer from a number of limitations .
Cubase has very steep and deep learning curve . Not as beginner-friendly as Logic or Ableton Live.
Lacks features like Ableton Live's Session View and FL Studio's Performance mode which limits the use of Cubase for live performances .
One of the most important limitations that need to be considered is the absence of a more functional and generic sample based instrument .
The potential of Note Expression is dependent on third party plugins supporting VST 3.
Proprietary USB dongle-based copy protection is troublesome.

Especially when you are working on a laptop with limited number of USB ports for connecting other peripherals.

No downloadable version available for purchase.
The revised interface in Cubase 7 with new mixer works best on a 1080p (or greater) display.
Overall, Cubase is a fantastic program for all your music production needs . It is one of the most advanced digital audio workstation available today.
With over twenty five years of evolution Cubase offers top-notch features to many different groups of musicians. Cubase has remained industry standard for many years used in many professional recording studios.