How to Play Shell Chords for Guitar
Learn 3-Note Chords (also known as Guide Tone Chords)
If you have studied any jazz there is a chance you have come across shell chords without realizing it. Shell chords are simply playing certain notes or a partial part of a chord. Many other genres and instruments use this concept in a variety of ways. But when it comes to jazz guitar chords one that stands out is the shell voicing.
Different Kinds of Partial Chords
One common partial chord most guitarists learn early on is the power chord. This is made up of the root (1) and fifth (5) of the scale. If you have never taken a close look at music intervals and scale degrees, that is a topic that will help you get a better idea of why certain partial chords are important.
The root and the fifth (along with some higher or lower octave roots) make for a very powerful underlying chord. Especially when they are played through distortion.
But it is not just the root and the fifth that are occasionally played as partial chords.
In bluegrass double stops are used which are partial chords made up of only two notes. They provide a percussive effect and harmony based on the interval used.
In piano boogie woogie the 6th and 9th scale degrees are used to outline patterns.
There are different music styles that use only select notes of chords depending on their needs.
The key thing to remember is that partial chords are not just played because they are easier or a shortcut.
No doubt they are, but musically they serve a function of spreading out the notes among different members of the band.
What Exactly Are Shell Chords
It seems such a simple and basic idea to just play part of a chord that it is often overlooked. Or in some cases guitar players may not realize what they are doing. A shell chord is simply a partial chord that contains:
The Root (1)
The Third (3)
The Seventh (7)
Normally we will add the fifth into major and minor chords, but it isn't that important to tell the difference.
Even when we remove the 5 it is still easy to discern which harmonic function the notes serve. Whether the third or seventh is flattened or not makes a bigger difference in sound.
As with all partial chords it is essential to focus on the important notes.
And in jazz the 1, 3, and 7 are the main ones to build on. They provide the basic rhythm and background so the soloist can play and explore other notes.
Of course if any other note degrees are present in the chord they will also be omitted just as the 5. The shell chord will always be a 1, b3 or 3, and b7 or 7 depending on whether it is major 7th, minor 7th, or dominant. Which is good news if you are just starting out.
Note: In shell chords the 5th is omitted
Sometimes seeing a jazz chord like Cmaj13 can be a little much, but usually not just one player is handling that chord. The bass and rhythm are handling the root and important notes while the melody players are doing the rest. But it is still important to know all the notes so you fully understand your part.
Shell Chord Guitar Diagrams
Your typical shell voicings will include major, minor, and dominant 7th chords. They will essentially be the same patterns as your regular chords; you are just omitting the fifth and any other notes. Sometimes only the 1 and 3 or 1 and 7 are played, as long as the basic harmonic function is served.
If you play a lot of tabs for jazz and rock music you have already been playing plenty of partial and shell chords.
Next time you are playing take a look and you will notice the 1,3, and 7 (or other partials) are featured.
In the following, you find the most used guitar chord shapes for shell chords. All the examples are with root in the key of C, you should shift the shape up or down the neck to play with another root (for example, if you want a D maj7, move the shape 2 frets up the neck).
If you have any difficulties in understanding these diagrams, jump to the how to read chord diagrams tutorial.
Shell Chords Diagrams - Root on the 6th string
C Maj7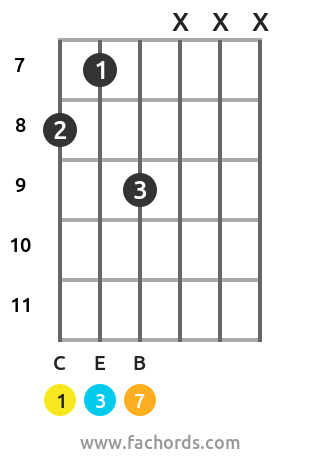 C7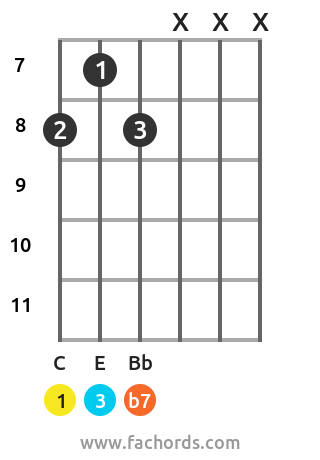 C min7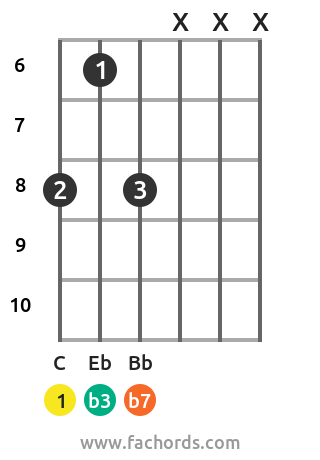 C Maj7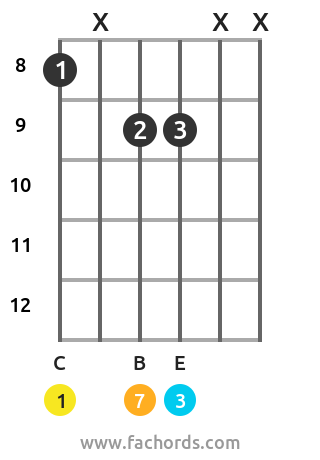 C7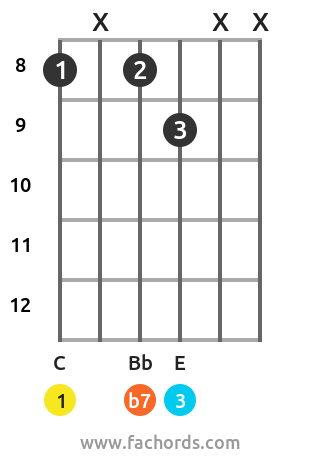 C min7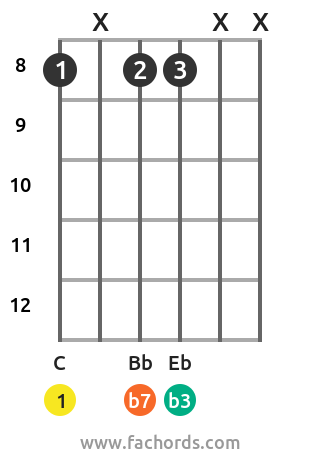 Shell Chords Diagrams - Root on the 5th string
C Maj7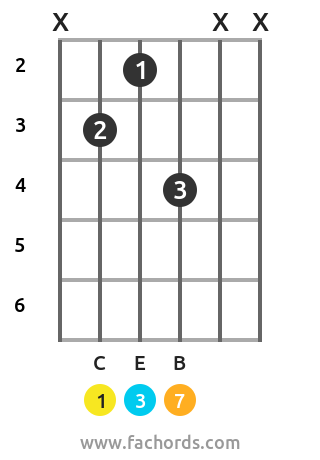 C7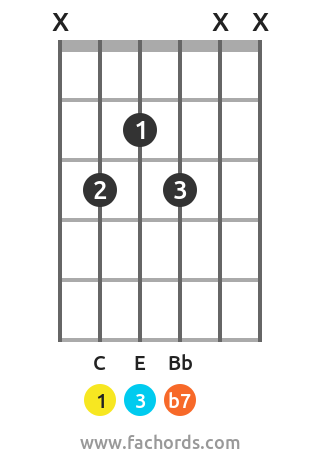 C min7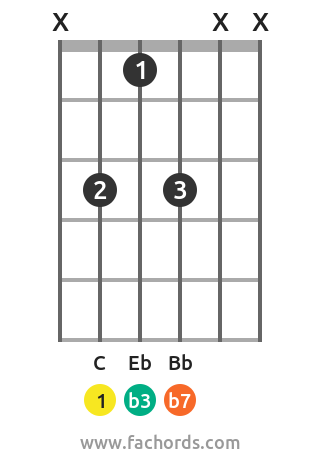 C Maj7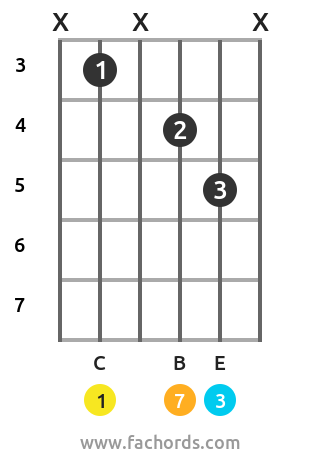 C7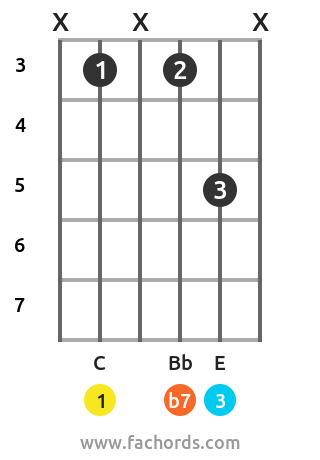 C min7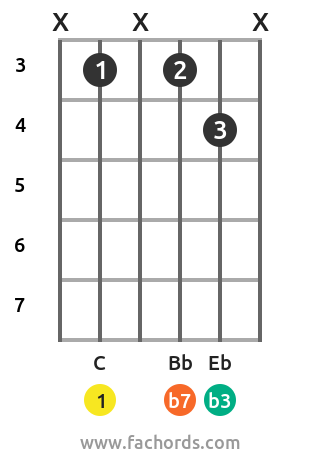 Shell Chords Diagrams - Root on the 4th string
C Maj7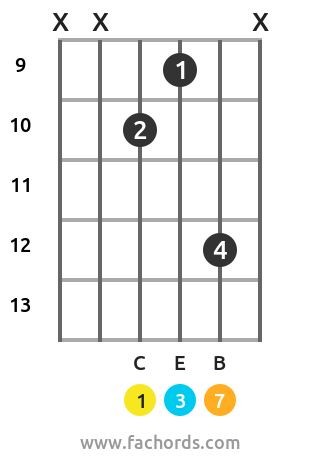 C7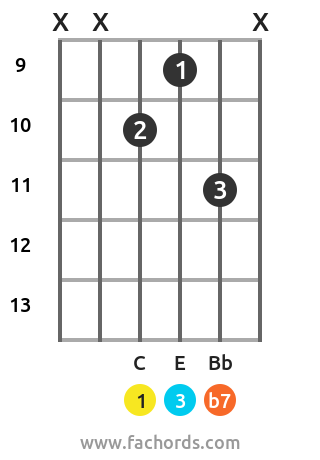 C min7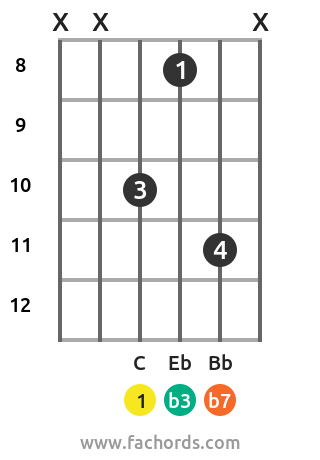 C Maj7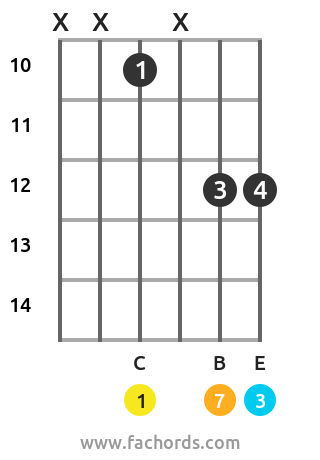 C7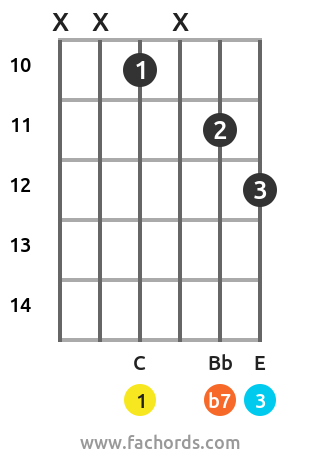 C min7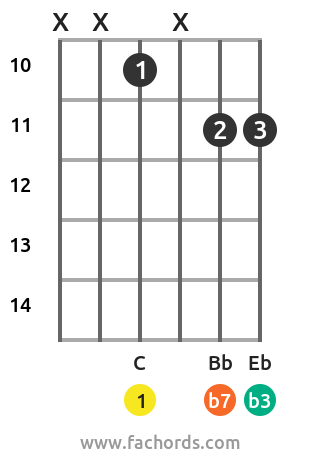 Where and When to Use Shell Chords
Shell chords have their roots in piano playing as they are often what the left hand is playing while the right is taking care of more complicated harmonies. As jazz music progressed and the guitar became an essential instrument the technique was simply adapted.
The obvious place to use shell chords is as a beginning guitar player. As mentioned if you have trouble hitting all the notes in a chord, you can just play the important ones. Depending on your style you may want power chords, double stops, or shell voicings.
If you are still having trouble with understanding chord theory, shell voicings and partial chords are the best way to build up your skill. You may only be playing pieces of the music but it will still sound good while you work on your chord formulas.
And their use extends far beyond simplified playing, sometimes a shell chord is necessary to break the chord qualities through heavy distortion and effects. When we play only a couple important notes of the chord, it sounds stronger allowing it to stand out amongst other instruments.
But the main use of shell chords will always revolve around the fact they serve as a foundation for your musical house. With walking bass lines and other rhythmic shell backing you have a simple method of voice leading. This is the process of how your melody and harmony interact.
By playing as few notes as possible you allow your soloist to have a lot of freedom in the notes they choose. There is simply less chance of a wrong note with the right backing shell chords. This is why bebop is always associated with shell partials as it has a lot of complex notes mixing.
As a guitarist you will not always be featured in a solo or lead, there are times you need to provide some structure for the other players.
By knowing your shell voicings and partial chords you will be prepared for any melody line that comes your way. Keep it simple and harmonically important so the others can stand out!
To learn more about chord types and voicings and how to play them across all the fretboard, check the Chords Domination ebook out.
And don't forget to subscribe to get weekly updates and access to the free download area.