How To Play Bebop scales
Effective Jazz Scale Patterns For Guitar
Like the term "jazz scales", bebop scales are more than just one scale. They are a common group of note sequences used in jazz and fusion. In this article we will discuss what makes a bebop scale and the different formulas, along with the best times and chord progression to play them in.
What is a bebop?
The Bebop Era began around the 1940's, during this time Charlie Parker, Dizzy Gillespie, Lester Young, and many more helped innovate a new style of jazz. This new genre was known for being complicated. Lots of key changes, hard chord progressions, complex harmonies, and incredible improvisation.
This was almost a rebellion from standard jazz and popular music chord progressions with normal and simple verse-chorus repetition. The point was to be radical. This was when the Beat Generation began, and their Bohemian lifestyle mixed perfectly with the impulsive and uncertainty of bebop. Just like life, who knows what the next note will be!
Because of its odd intervals and constant changes, the music became more of a cult phenomenon as the masses didn't quite take to the musical complexity. But bebop lives on in the heart of every jazz player looking for that next unexpected, but incredible note to be played. Many fusion guitarists are especially familiar with these scales.
What is the bebop scale?
First let's look at the simple hexatonic (6 note) blues scale.
In the key of C that is C Eb F Gb G Bb and back to C again. Play this scale and it is no doubt bluesy. Why? The chromatic movement of that b3 to 4 to #4 along with the b7 makes for some very jazz quality vibes. And jazz musicians love chromatically playing through notes!
And that is the main glue and source of all the bebop scales below.
We simply take regular scales and modes and add notes so there are more chromatic intervals.
Depending on where we make these changes, will determine the quality of that particular bebop scale:
Most bebop scales are named after what scale they are making changes to, which is mostly the addition of one extra chromatic note, so they are often 8 note scales.
In general, we will be playing bebop scales over the normal jazz progression of ii-V-I, except moving through many keys. But it is not as if they can't be used in other or similar progressions. Either way the more major and dominant bebop scales can be used with those types of chords, while the minor scales will clearly sound better with the minor chord sections.
In the following, we're going to learn the most common Bebop scales, with the help of fretboard diagrams in the key of C. Of course, you can shift the shapes up or down the neck to play with another root.
Bebop Major
This is just the major or Ionian scale with a raised fifth as a passing tone. Since it is built off a major 6th and diminished 7th, these are two chords this scale will work great with.
Note: All the diagrams on this page are taken from my complete ebook Scales Over Chords.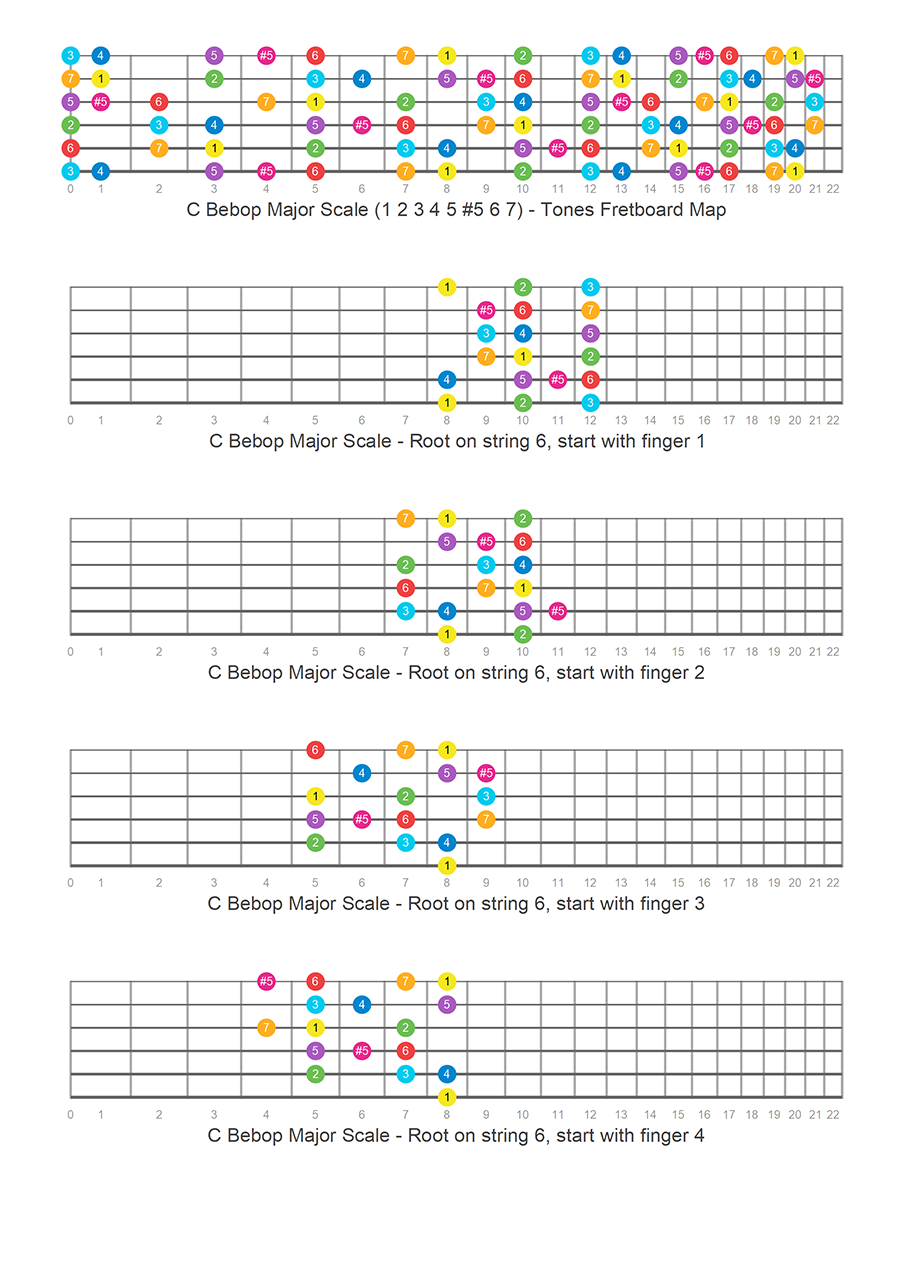 Bebop Dominant
The dominant bebop scale is simply the mixolydian scale with an added 7.
We bring that major quality back into the mix. This scale is often played over dominant 7th chords and its extensions.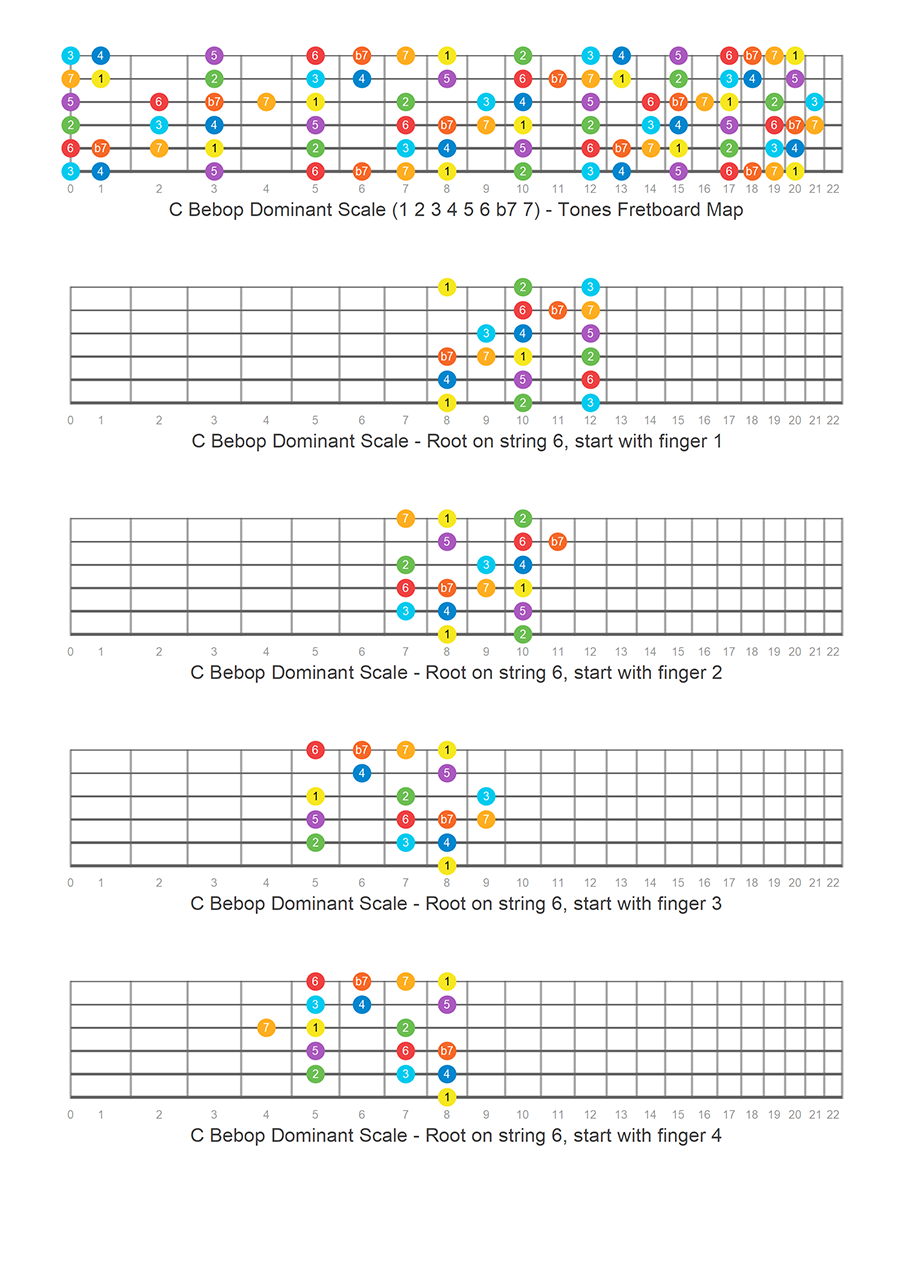 Bebop Dorian
Here we have an added 3rd to a normal Dorian scale, giving it a minor bluesy feel. This is because it also has the same mixolydian notes of the root note to play. A double dose of funky blues for some guitarists.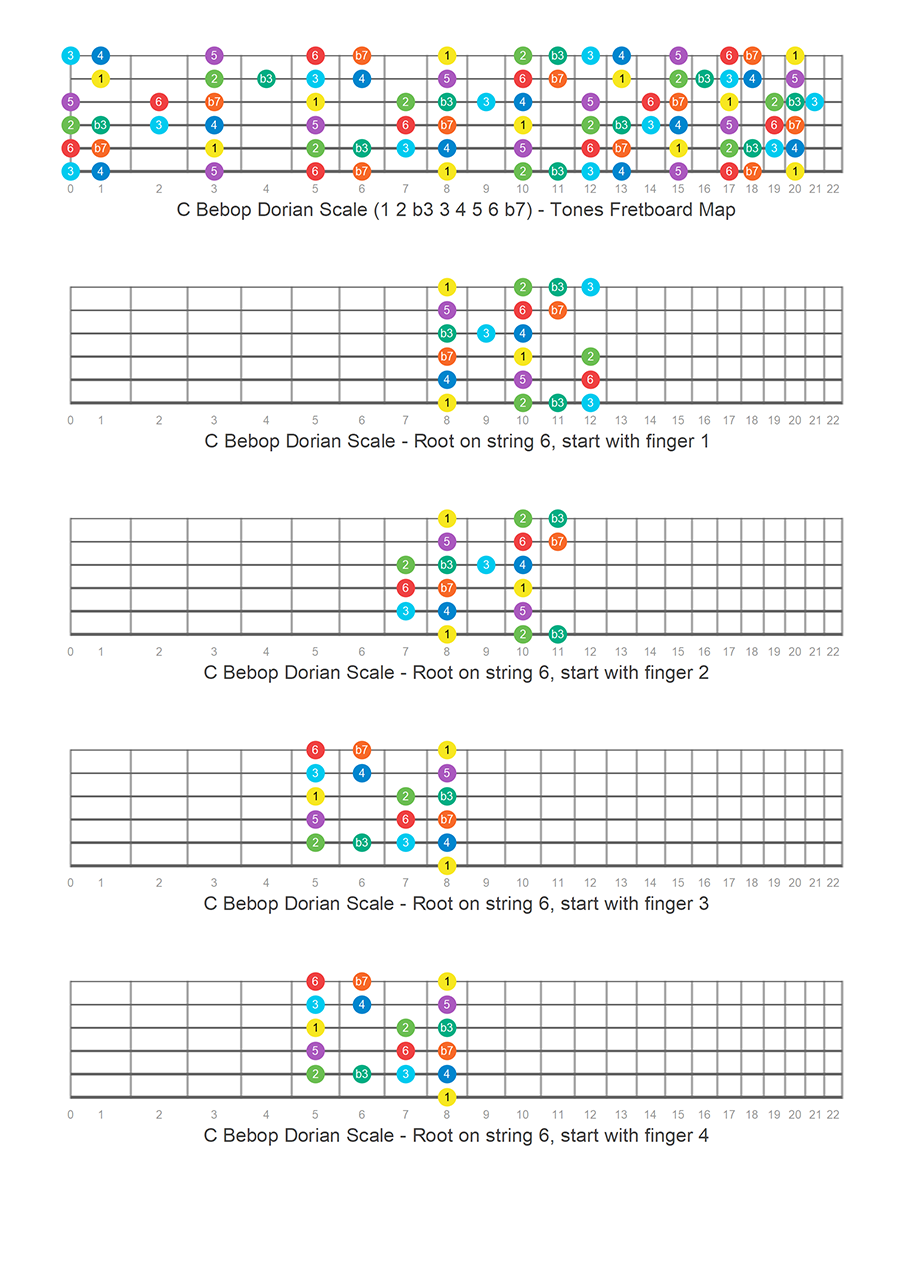 Bebop Melodic Minor
This scale is just the melodic minor with a passing #5 added. It is great with minor 6th chords, or it can even be mixed in with some harmonic minor.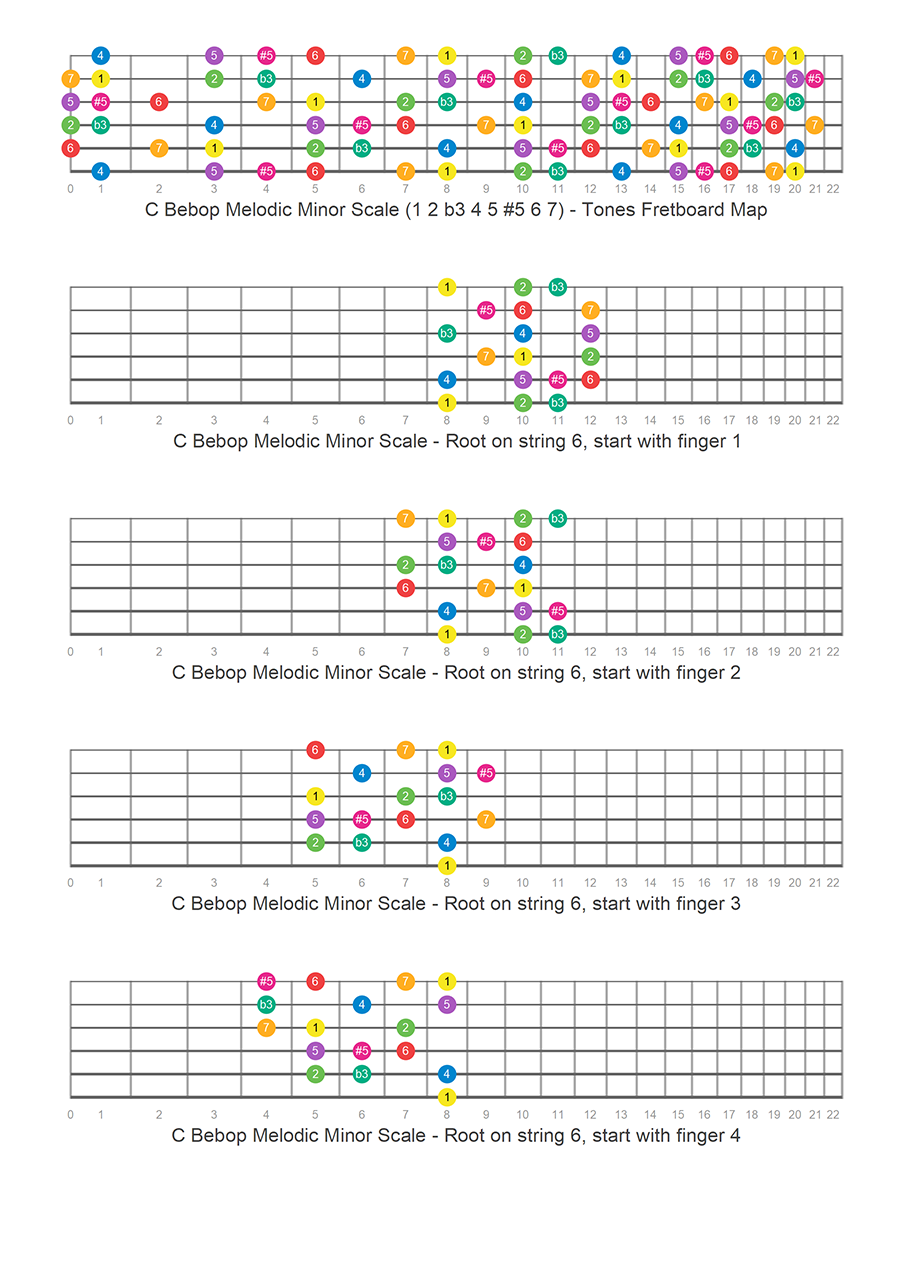 Bebop Harmonic Minor
By adding a natural 7th, we get a mix of an Aeolian and harmonic minor scale. These specific tones allow it to be used over all three chords of the ii-V-I.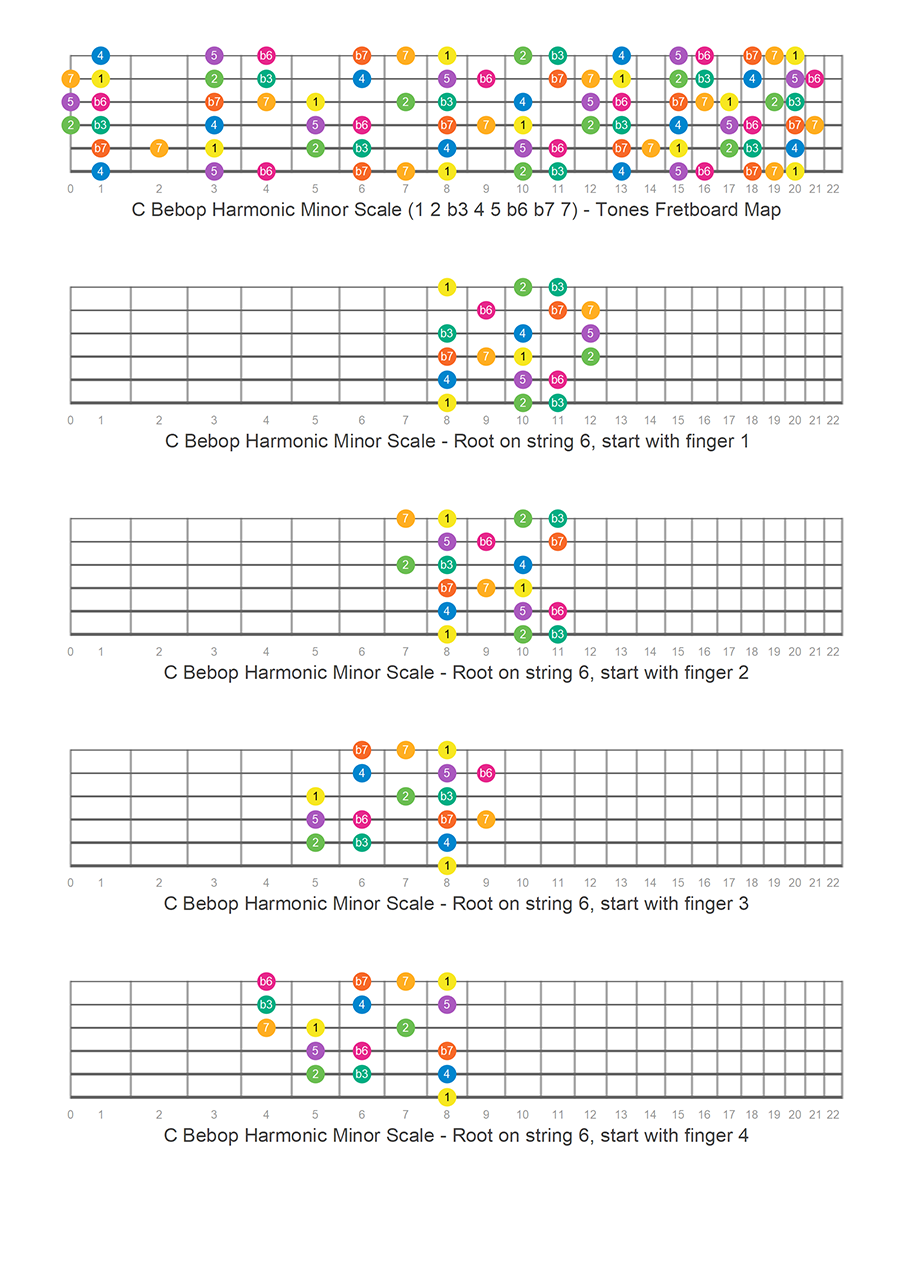 Bebop Whole Tone
This is the whole tone scale with added 4th and 7th.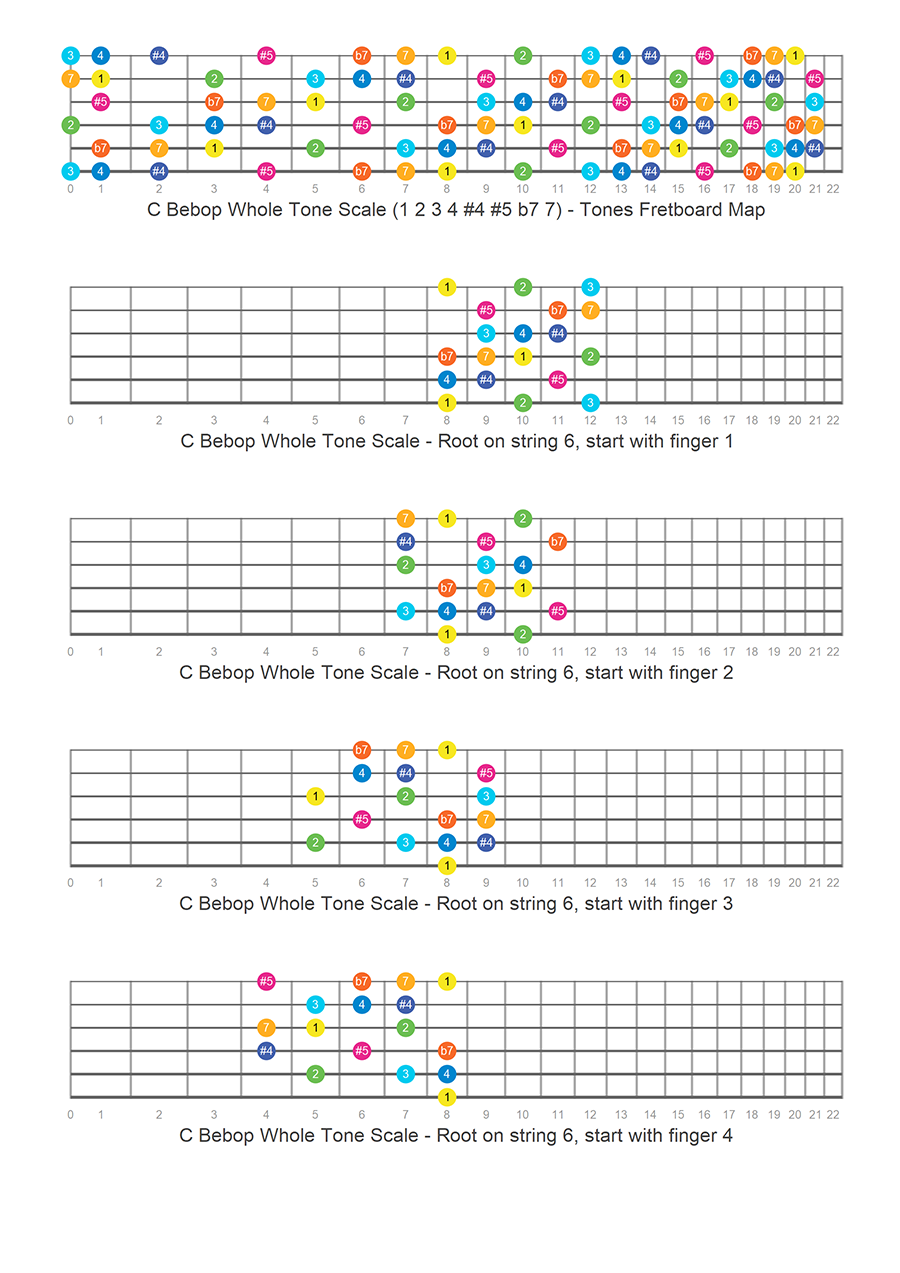 Bebop Locrian
As if the Locrian scale isn't weird enough here, we add a natural 5th. It actually almost sounds better than regular Locrian! This will be an interesting scale to attempt to fit over the ii chord in the ii-V-I.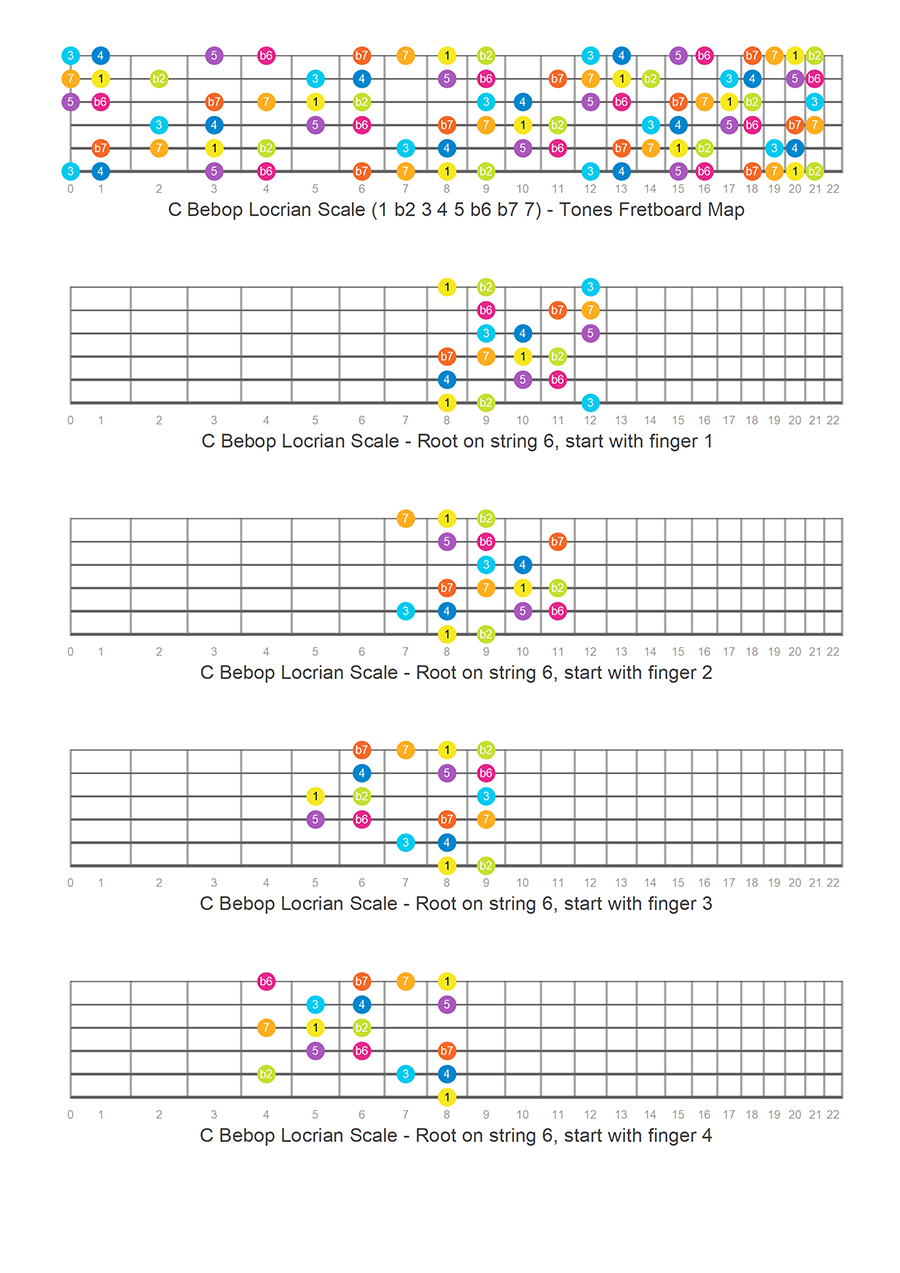 Bebop Phrygian Dominant
Here we add a 7th to the basic Phrygian dominant scale. While the ii-V-I is the most common you will also be playing progressions like I-VI-ii-V. And when the VI is a VI7b9 this is the scale used.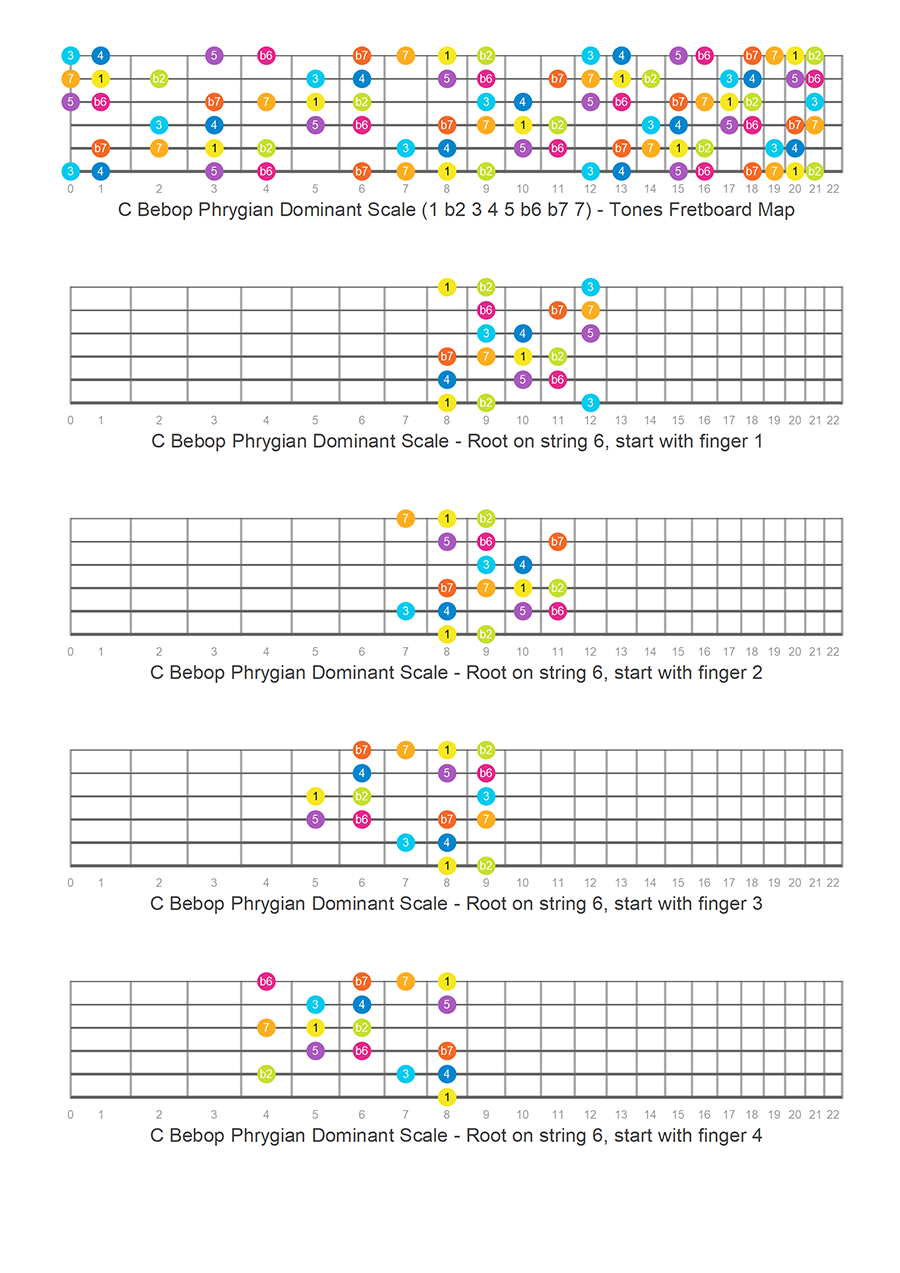 These are the most common bebop scales you will see, but you can change other scales in this chromatic method to get similar results. And you will eventually notice some of the same scales have different names.
Playing bebop scales
With a normal diatonic 7 note scale we have trouble fitting that into rhythms, especially in 4/4 time. But with an 8 note bebop scale we can have each note on a step.
We play the important chord tones on the downbeat, and the remaining tones on the upbeat. This always keeps the song grounded like our ears prefer, while you improvise the new chromatic notes.
This is one reason bebop scales are for guitarists with a little more drive as these scales are complicated at times and have to be played on the right beats. And you really want to know all your keys as you never know what you will be improvising over.
We mention possible chords above to play over, but experimentation is key.
But there is a bright side to all the extra practice and knowledge. Because of the added chromatic or passing notes, bebop scales will help you a lot more with melodies rather than harmonies. Which is why they are so perfect for improvisation; they allow you to break out of the mold of the normal scale and its expected interval sounds.
When it comes to practicing your bebop scales you stick to your first basic exercises and then just jump into trying them out. Use backing jazz tracks to play your own 8 note scales with chromatic parts, focus on the down and upbeat, and most of all let go of all the reasons and rules and just let your emotion take over.
Bebop isn't about mechanics or replication, but raw inspiration.
And music inspires a lot of passion in players and listeners. As Jack Kerouac wrote in the famous American novel On the Road:
"Out we jumped in the warm, mad night, hearing a wild tenorman's bawling horns across the way going, ee-yah(ph), ee-ya, and hands clapping to the beat and folks yelling go, go, go. And far from escorting the girls into the place, Dean Moriarty was already racing across the street with his huge bandit's thumb in the air yelling, blow, man, blow".
That's all for today. For more scale pattern with root on all string, check my complete ebook Scales Over Chords, in which you'll also learn which scales to play over any chord.
Subscribe here to stay updated