Diagram for F maj9 guitar chord
Description
This chord is a major triad (root, major third, perfect fifth) with a major seventh and a major ninth.
Also known as: F major ninth F M9 F ?9
Chords Chart Pdf Free Download
Position 1
Position 2
Position 3
Diagram for F maj9 guitar chord: Interactive Chord Tabs
Click on the play button to listen to the chords and visualize the patterns

Loading sounds...
1 3 (5) 7 9
Is this helpful?
Share with your fellow guitar players!
Related posts: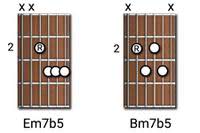 Diminished chords often confuse guitar players, as actually there exist 3 types of those chords. This tutorial will show you how to build and to play diminished triads, half-diminished and diminished 7th chords on guitar. You'll also learn how to use them in your own songs... Read more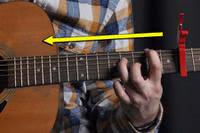 In this tutorial, you'll learn how to transpose chords songs in different ways: with a capo, with chords tables and with the help of the fretboard. Often we need to transpose songs in a new key to make them easier to play and sing... Read more
Questions or comments? Drop a line below!