Easy guitar chords songs
10 simple songs with 2 chords: C and G major

When we first start playing guitar it is common to learn just a couple of easy guitar chords, and most new players are pretty anxious to get playing their guitar as soon as possible. In the next few articles we are going to provide some great examples of easy songs you can play with a limited number of basic guitar chords. That way from the very beginning you have something to show for each step of your guitar learning path.
New! Free Guitar Pdf Ebooks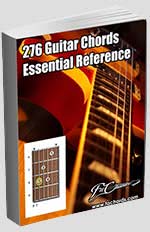 Be sure to check our collection of free guitar learning ebooks. You'll learn new chords (open strings and movable shapes), scale patterns and music theory. Like all the resources on this site, you can download them for free.
We are going to stick to one of the common keys and in this case the Key of C. Most new guitar players immediately learn C major and G major so let's find a list of music that can be played with just those two chords. Remember in the Key of we have the chords C major, D minor, E minor, F major, G major, and A minor… G major being the fifth in this key. In western music the easiest and best sounding interval is the root and the fifth, that's why it is so easy to write simple songs using only the chords C major (root) and G major (fifth). Most two chord songs of the root and fifth are going to be in the folk, gospel, and country genre, but we have a few that fit in the modern rock category!
10 Easy Guitar Songs For Beginners
This song dates all the way back to the 1840's, so while it may be a simple children's song we have to give it some respect for such staying power. It transitions back and forth quite simply between C and G without much fuss and is a great beginners song. It sounds fine with basic strumming, but it sounds much better with a little finger picking, give it a try and see what sounds best to you! (If you have an electric guitar plug it into and amp and give this old folk tune some rockin' amplification!)
Song Chords
2) Jambalaya (On the Bayou)
It just doesn't get much better than Hank Williams, who wrote Jambalaya back in 1952 (well he most likely co-wrote it based off an old Cajun melody). This is another simple two chord melody that can be strummed or picked. Sometimes when playing simple two chord songs we want to add a little spice to the strumming since we don't have too much going on musically. Once you have the basic melody and song down, experiment a little!
Song Chords
This is a folk country song from the 1920's also known as "Birmingham Jail." If you look this song up you will see some have it chorded with only C and G, while others use G7. Many folk songs that have two chords will sometimes use the 7th, if you haven't learned G7 yet that is fine as you can still play the song, but you may come across this 7th again with two chord songs so keep an eye out. (As a beginner it is usually ok to play just the G major, but hey it doesn't hurt to learn it now!)
Song Chords
4) He's Got the Whole World in His Hands
Here is another great example of the G7 being used in this old time American spiritual. However, it is fine to play G major in the place of the G7. It will still sound fine and your audience will never know the difference!
Song Chords
If you grew up in the early 90's, you probably wanted to scream after hearing this song played a bazillion times! It wasn't written by Billy Ray Cyrus, but he sure made it popular. Despite it being played into the ground back then it is actually a great song for beginning guitar players. In fact, if you know a drummer and bass player, all three of you can play this with minimal practice making folks think you are just a regular band.
Song Chords
Even the great and talented Beatle John Lennon wrote his share of really simple songs. Give Peace a Chance makes a great campfire song, especially for the chorus. This song was written by John during his famous Bed-In with Yoko… ironically like playing this song, peace is really not complicated!
Song Chords
This 50's song had a big comeback after the movie Beetlejuice, it is a traditional Jamaican folk song made popular by Harry Belafonte. While this song is simply C major and G major like the rest on this list, the key to playing it is to get the strum right. Jamaican and reggae type songs often have an emphasis on the 2 and 4 beat, strum with a percussive type effect on these beats as you play the Banana Boat Song.
Song Chords
8) Mary Had a Little Lamb
As mentioned before, most songs that only have these two chords in them of C and G will often be kid's songs or folk songs. However, it is always good to know these really simple songs like Mary had a Little Lamb because you never know when you will have a young audience that will want to hear a familiar tune!
Song Chords
I included this great song by The Beatles because it is a good example of how even a two chord song can be a little difficult to play. You will find much of the verse is in G with a short part in the C major chord, in fact many sites have the chord as G7. As you learn to play it, it will seem strange that you are staying in that same G chord for much of the verse. I find this can be fixed by good strumming and switching between G and G7. It's really all about using your ear. G7 is not that much different than G major and now is a great time to pick it up and start using it. With Paperback Writer you see that even two chords in a song it is not always easy!
Song Chords
Sly and the Family Stone has always been one of my favorite bands, and their song Everyday People fits our two chords of C and G perfectly. This song sounds great on an acoustic or electric guitar, just remember to add a little bit of soul and funk to it! Another song about peace and equality and all it needs is two chords! (Technically this song is in the Key of G, but it fits our needs for only using C and G)
Song Chords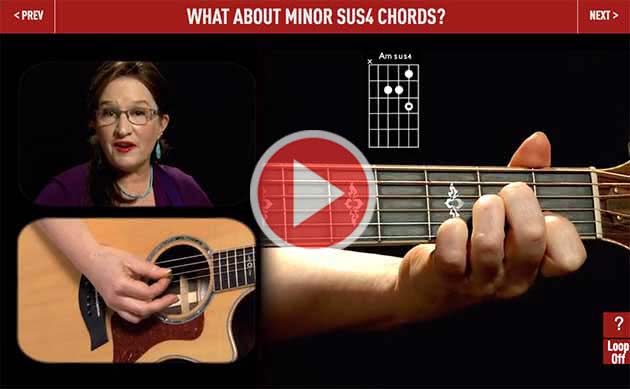 Guitar Tricks
provides full courses with structured lessons for beginners, intermediates and experts. You'll improve your guitar skills and knowledge while having a lot of fun. Give it a try, it really works!
More resources to master guitar chords
Hope you found useful this list of easy songs. At the end of the day, you only need some basic guitar chords and a couple of friends to have a lot of fun. Here below you find more resources that will help you get better with chords, strumming and progressions. Check them out!
When you will be ready, you can start to learn 10 songs with 4 easy chords.
Is this helpful?
Share with your fellow guitar players!
Questions or comments? Drop a line below!