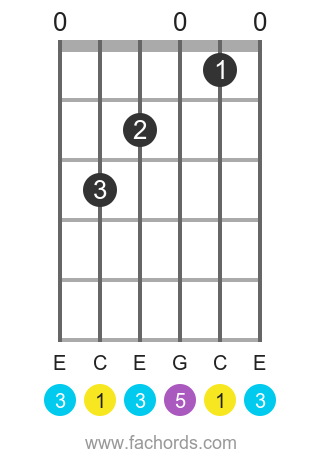 The C major chord is one of the first chord beginner have to learn.
Is not the easiest one because it requires a little bit of stretching, but with patience and exercise it will be easy to play.
The intervals composing the C major chord are Root, Major Third, and Perfect Fifth (1, 3 and 5).
The C Major chord is spelled in the following ways:
C (in major chord the type is often omitted)

C Major

C Maj

C M

C Major Triad
The C Major chord is made up of the notes C, E, and G
You might find also useful this C chord variations tutorial, which will take you through the various chord qualities generated from this basic form.
C maj chord Notes:
CEG
How the Major chord is built:
The C Guitar Chord On Guitar
The C Major chord is built on the C Major scale, stacking the 1st, 3rd and 5th notes:
C D E F G A B C
So, counting 1, 3 and 5, we get: C E and G.
Keys Where You Can Find The C Major Chord
The C major chord contains natural notes only, so it's present in different keys:
C Major Key
G Major Key
F Major Key
E Minor Key
A Minor Key
Progressions That Use The C Major Chord
There are probably thousands of songs with a C major chord somewhere. Here are some of the most popular:
1 4 5: C F G
1 6m 4 5: C Am F G
1 5 6m 4: C G Am F
My full tutorial on common chord progression will give you a detailed view on how put chords together.
Scales To Play Over a C Major Chord
Basically any scale that has a Major Third and a Perfect Fifth will be a great fit for this chord, for example:
C major scale
C Major Pentatonic scale
To learn more about this concept, check my complete ebook Scales Over Chords | Learn How To Play The Right Scales Over Any Chord.
Songs With The C Major Chord
The C major chord is one of the most used, and you can find it in songs like Imagine, The House Of The Rising Sun, Hallelujah, Time After Time, Ain't No Sunshine, Blowin' in the Wind and many others.
You definitely want to learn it!
How To Play The C Major Chord | Guitar Shapes
Chord boxes are sorted from the easiest to the hardest. Learn how to read chord diagrams.
If you have difficulties with bar chord shapes, check the Bar Chords Tips tutorial.
Find more shapes on my all guitar chords online library.
Position 1

Open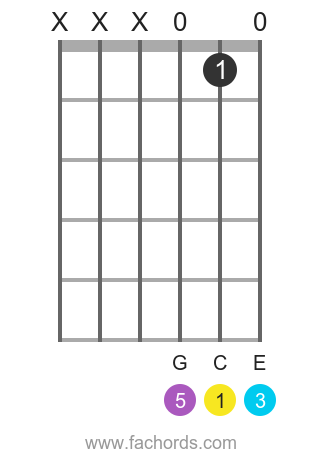 Position 2

Movable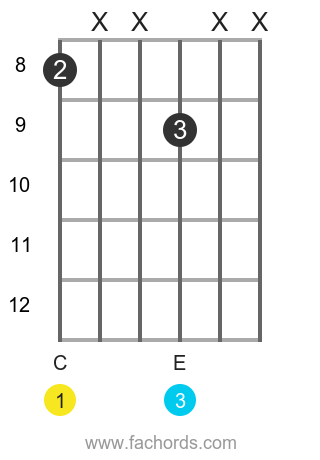 Position 3

Movable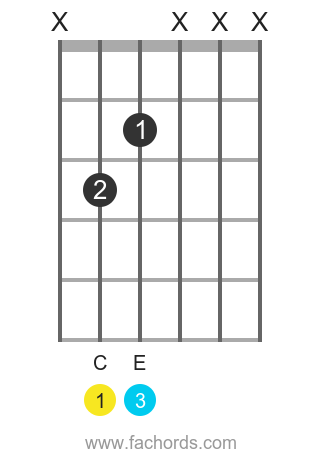 Position 4

Open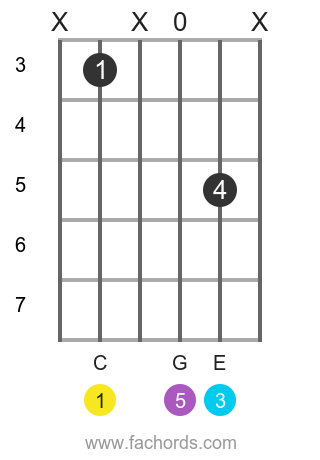 Position 5

Movable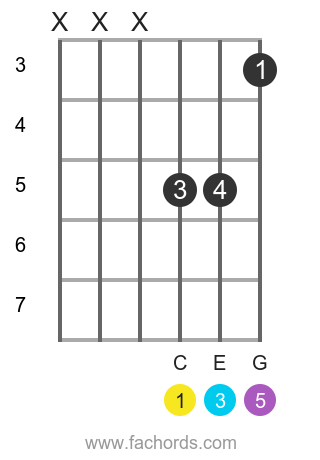 Position 6

Open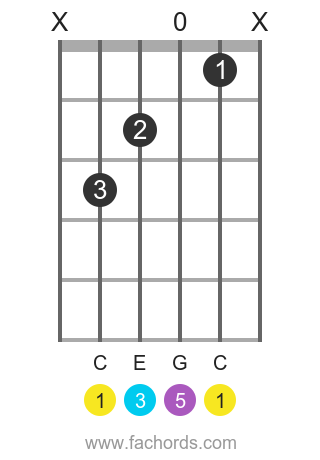 Position 7

Open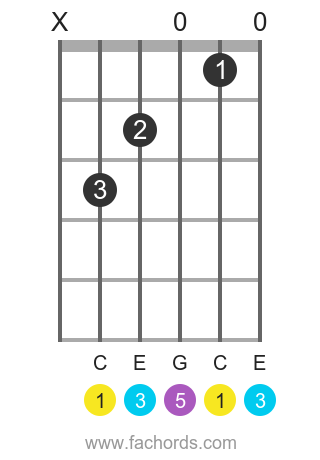 Position 8

Open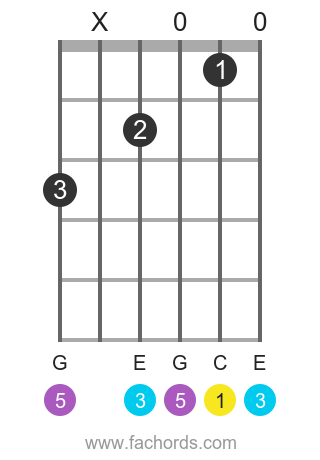 Position 9

Open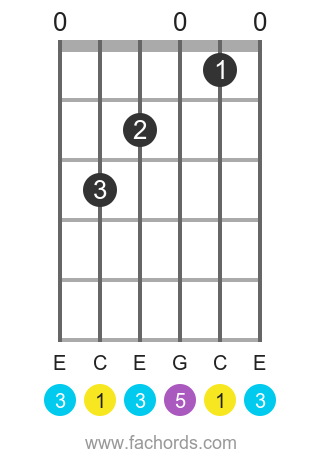 Position 10

Open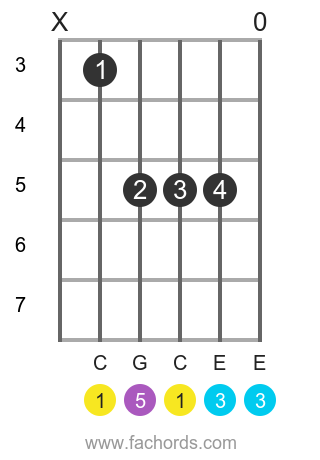 Position 11

Barre
Movable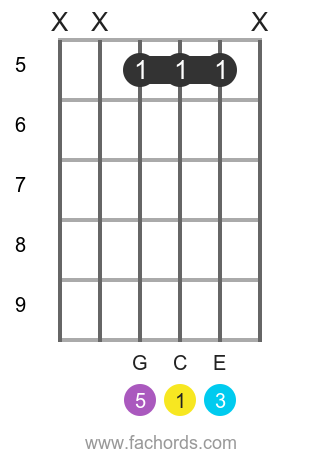 Position 12

Open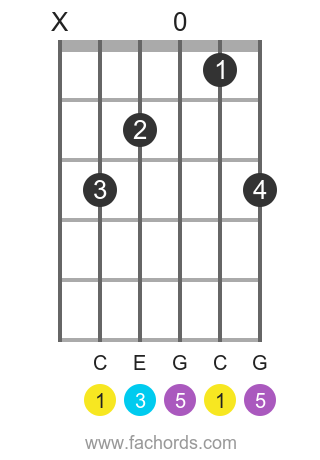 Position 13

Open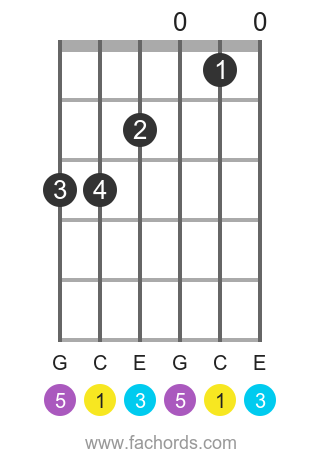 Position 14

Barre
Movable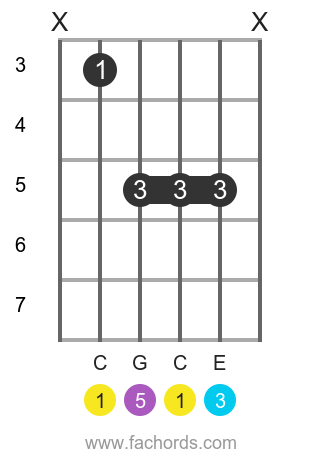 Position 15

Barre
Movable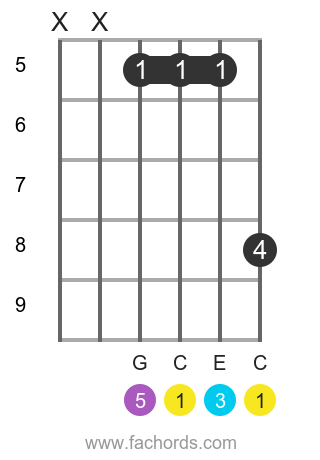 Position 16

Barre
Movable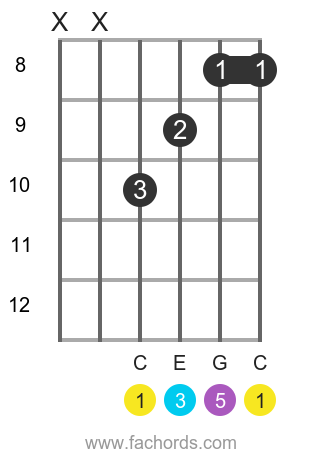 Position 17

Barre
Movable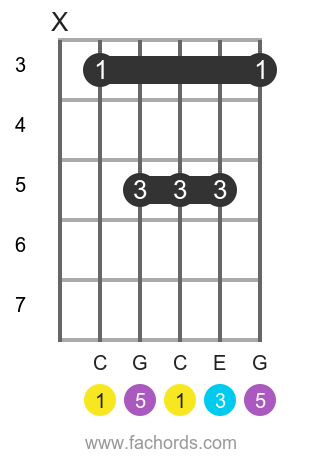 Position 18

Barre
Movable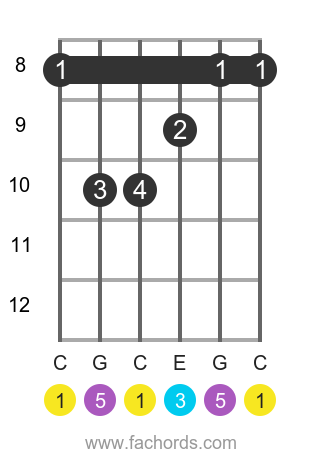 Want a printable pdf?
Download the Free Guitar Chords Chart Pdf
How to build the C maj chord on guitar
You can create any fingering you like on any part of the fretboard, just play some of the chord tones shown in the map below. Some shapes will sound good, some less, let your ears decide!