Play The G Major chord on guitar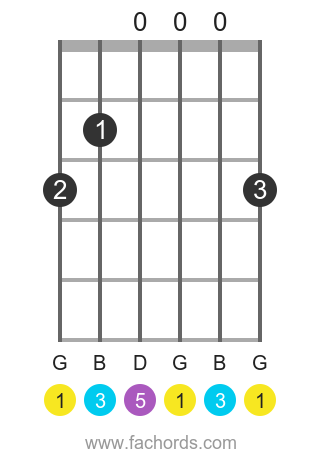 The G major chord is quite easy as it requires only 3 fingers.
The standard voicing has a big and bright sound, because it uses three open strings, and sounds great on an acoustic guitar.
This chord is derived from the G major scale, which is G A B C D E F# G, stacking the first, 3rd and 5th notes: G B and D.
To learn how chords are created, check my chord construction how-to.
On music scores and guitar tabs, you could encounter these name variations for the G Major chord:
G Major
G Maj
G M
G Major Triad
Gmaj
Or simply G (the quality is often implicit with major chords)
Notes in the G maj chord:
GBD
Tones of the Major chord:
---
Keys With The G Major Chord
Here are the most common keys that have a G major chord.
The most common place where to find a G major chord is the 5th degree of the C major key, in which its function is dominant.
In this role, often it's played like a G7 dominant chord, which create a strong tension than can be resolved on the tonic.
C Major Key
G Major Key
D Major Key
E Minor Key
A Minor Key
B Minor Key
---
Songs With The G Major Chord
There are a tons of easy guitar songs with the G chord.
Here are some notable examples:
Big Rock Candy Mountain
You Shook Me All Night Long (Ac/Dc)
Ring Of Fire
Yellow Submarine
Sweet Home Alabama
Free Bird
As you can see, the list could be endless, so you really must know the G major chord!
Possible Substitutions For The G Major Chord
Depending on its role in the progressions, this chord can be substituted with other forms:
You can use a G sus2 or a G sus4 instead a G major chord. These are suspended chords than don't have the 3rd.
When found at the 5th degree of the progession, you can use a G7 or a G diminished chord instead of the G major chord.
To sound more jazzy, you could even use a Db7 instead of the G7 (this is called tritone substitution).
G Major Chord Fretboard Shapes
Chord boxes are sorted from the easiest to the hardest. Learn how to read chord diagrams.
If you have difficulties with bar chord shapes, check the Bar Chords Tips tutorial.
Find more shapes on my all guitar chords online library.
Position 1

Open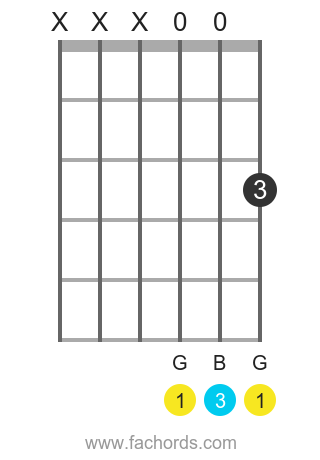 Position 2

Movable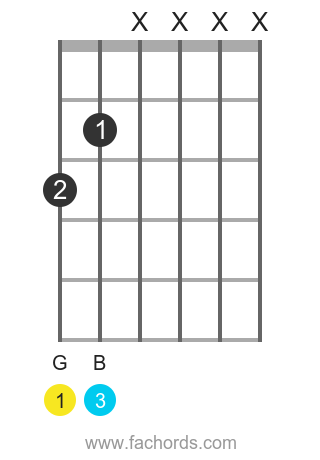 Position 3

Movable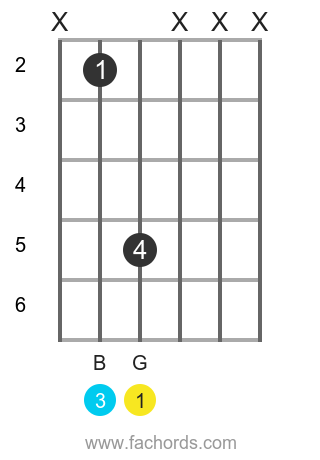 Position 4

Open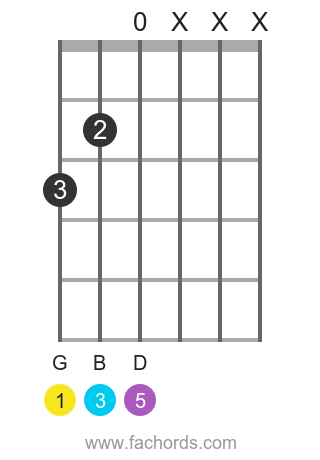 Position 5

Movable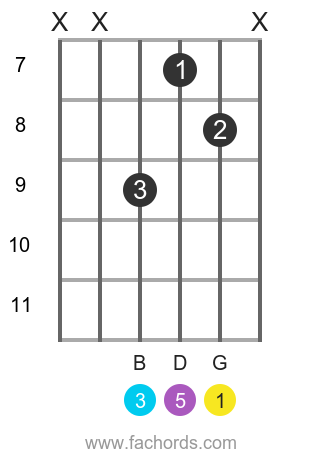 Position 6

Open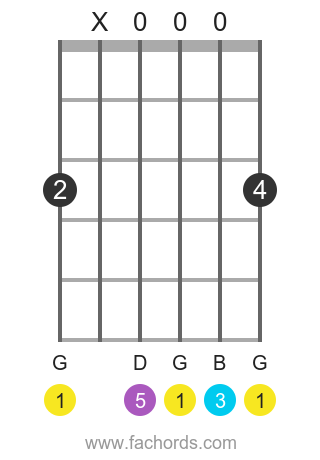 Position 7

Open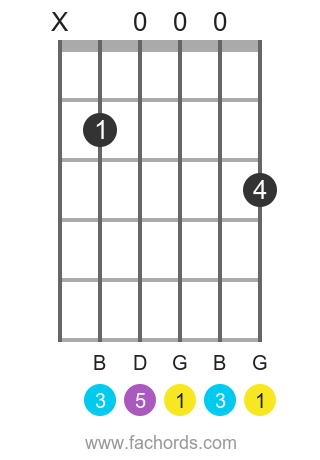 Position 8

Movable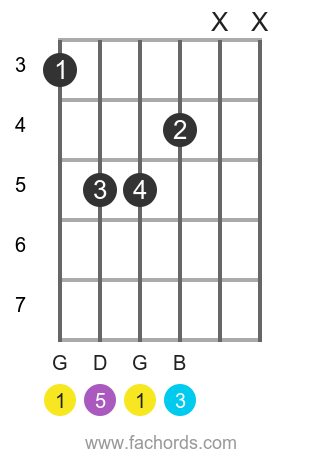 Position 9

Open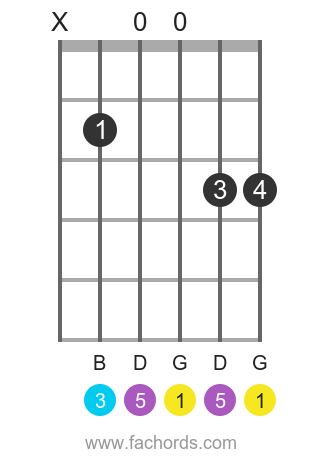 Position 10

Open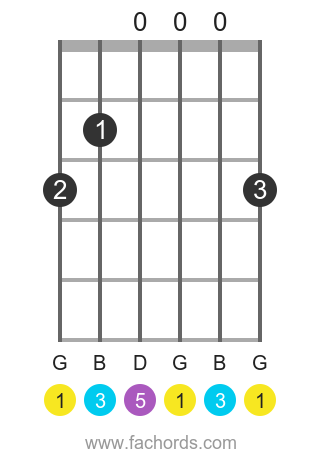 Position 11

Barre
Movable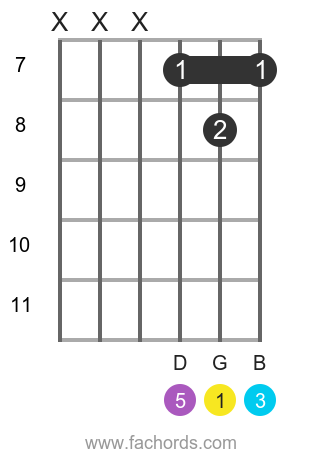 Position 12

Open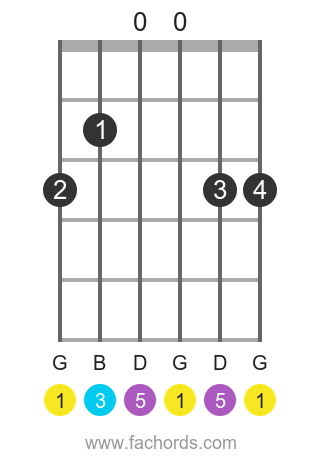 Position 13

Barre
Movable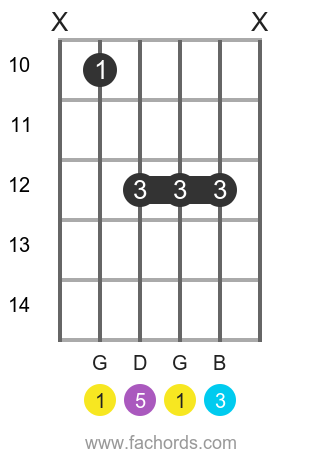 Position 14

Barre
Movable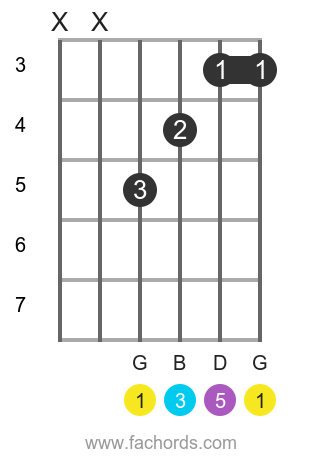 Position 15

Barre
Movable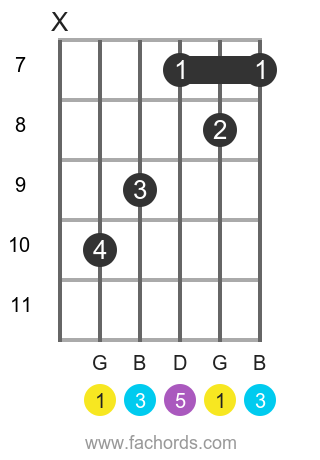 Position 16

Barre
Movable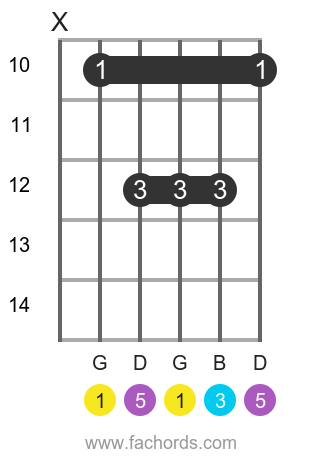 Position 17

Barre
Movable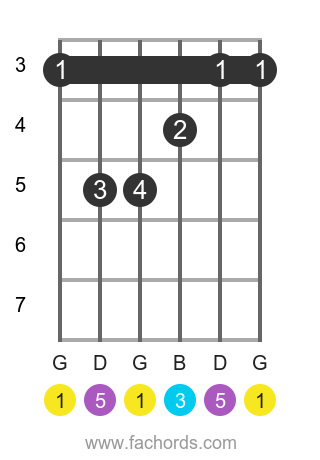 Want a printable pdf?
Download the Free Guitar Chords Chart Pdf
How to create your own G maj chord fingerings
Pick some of the tones from the fretboard map below and play this chord in new ways.