Cm chord - C Minor - guitar chord chart
---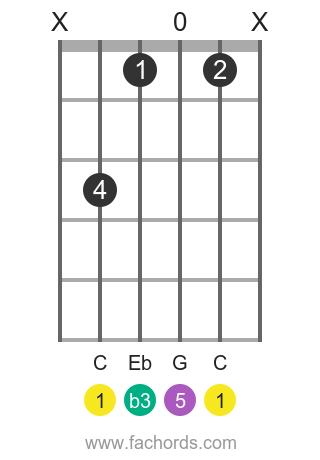 The Cm chord is made up of the Root, Minor Third, and Perfect Fifth
The Cm chord is known as:
C Minor

C Min

C Minor Triad

Cm
The C Minor chord is made up of the notes C, Eb, and G
These chord transition tips will help you learn how to change chords in a fast an accurate way.
---
Notes that compose the C m chord:
CEbG
How the Minor chord is built:
---
Before we find different chord positions for Cm let's get an idea of how the chord is built and used.
The notes for the C major scale are C D E F G A B and a major chord is made up of the root, major third, and perfect fifth.
Which means a C major chord is made up of the notes C-E-G. If we instead use the root, minor third, and perfect fifth we get CEbG or C minor
C minor scale: CDEbFGAbBb
Songs with the C minor chord
Minor chords are often associated with sadder and often slower music. Major chords are perfect for upbeat rock and blues, while the minors are there to change the mood.
You will find plenty of minor chords in classical music along with genres like pop, rock, and funk.
One famous song written in a minor key was "Stairway to Heaven"
One particular tune using Cm was "Blackbird" by The Beatles.
The song "Creep" by Radiohead uses C major and then C minor to end each verse. (And the song "Creep" is supposedly a copy of the song "Air That I Breathe" by The Hollies and that also uses the Cm chord)
That is why that chord progression (C major and the C minor) has been used so many times (even "Get Free" by Lana Del Ray) it sounds so nice changing from the major to the minor.
C minor chord guitar shapes

Using the tones above we can come up with some of the more popular versions of how to play the Cm chord. Usually when we play a chord we want the root note (here C) to be the lowest played bass note. Sometimes we will find a chord shape where that isn't the case, which means the chord is an inversion. If the lowest note is E or G instead of the C than that is an inversion. It will depend on previous and latter chords in the progression as to whether the inversions sound good when played. Sometimes the inversions will sound better than the regular chord with the normal root note!
Common C minor shape (barre required)
One common way to play Cm is by using barre chord minor shapes. For example the Am shape moves up three frets to become Cm X35543. Or we move the Em shape up eight frets at 8-10-10-8-8-8.




Or we can try voicing it as 8655XX or perhaps the first inversion which is easily played X6554X




More complicated chord shapes for C minor
We can also try some complicated positions with muted strings. Like X3X04X which is used in the song Blackbird like we mentioned above. Also this "open" Cm X3101X. Remember muting the outer E strings will be a lot easier than internal strings, they require a lot more practice.




You will often see Cm in the Keys of Eb, Bb, and Ab. Of course it may be used in regular keys like G and F if you want a mood change from major to minor. Three common scales that are fitting when playing the Cm chord are the natural minor scale, the harmonic minor, and the melodic minor scale.
| Key | I | ii | iii | IV | V | vi | vii |
| --- | --- | --- | --- | --- | --- | --- | --- |
| Eb | Eb | Fm | Gm | Ab | Bb | Cm | Dm/b5 |
| Key | I | ii | iii | IV | V | vi | vii |
| --- | --- | --- | --- | --- | --- | --- | --- |
| Bb | Bb | Cm | Dm | Eb | F | Gm | Am/b5 |
| Key | I | ii | iii | IV | V | vi | vii |
| --- | --- | --- | --- | --- | --- | --- | --- |
| Ab | Ab | Bbm | Cm | Db | Eb | Fm | Gm/b5 |
| Key | i | ii | III | iv | v | VI | VII |
| --- | --- | --- | --- | --- | --- | --- | --- |
| G | Gm | Am/b5 | Bb | Cm | Dm | Eb | F |
| Key | i | ii | III | iv | v | VI | VII |
| --- | --- | --- | --- | --- | --- | --- | --- |
| F | Fm | Gm/b5 | Ab | Bbm | Cm | Db | Eb |
C Minor Guitar Chord Voicings
Chord boxes are sorted from the easiest to the hardest. Learn how to read chord diagrams.
If you have difficulties with bar chord shapes, check the Bar Chords Tips tutorial.
Find more shapes on my all guitar chords online library.
Position 1

Open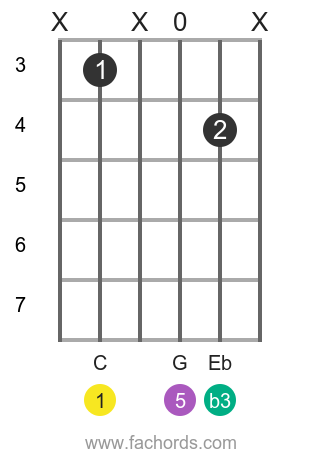 Position 2

Movable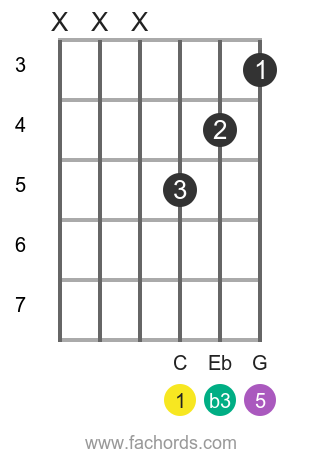 Position 3

Movable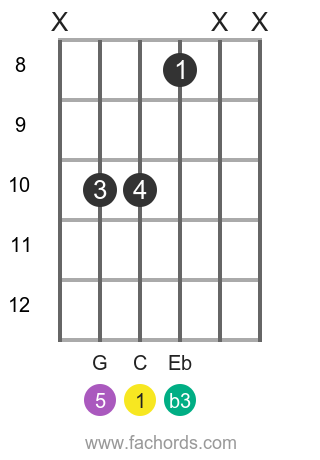 Position 4

Movable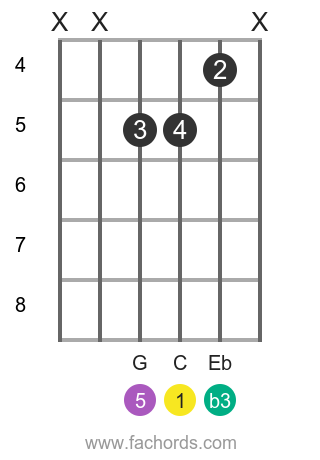 Position 5

Movable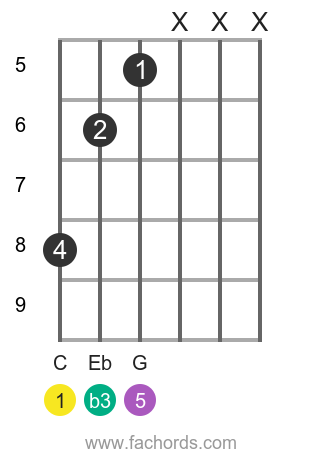 Position 6

Open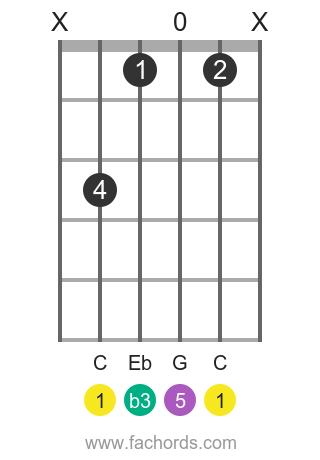 Position 7

Movable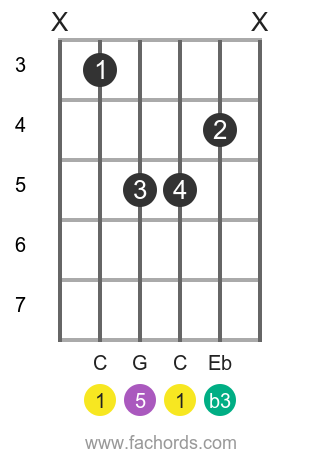 Position 8

Movable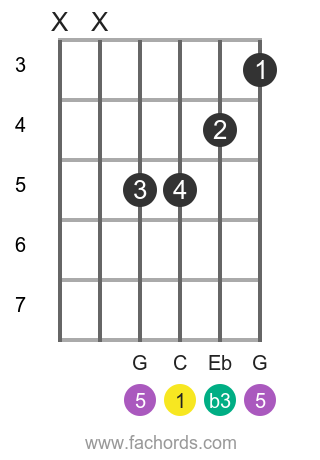 Position 9

Movable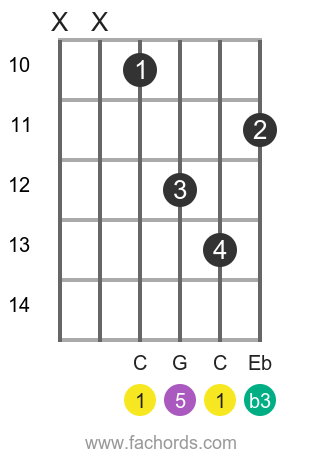 Position 10

Movable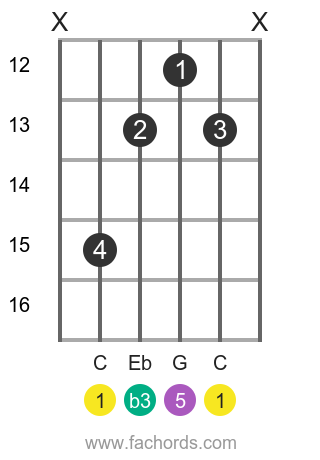 Position 11

Barre
Movable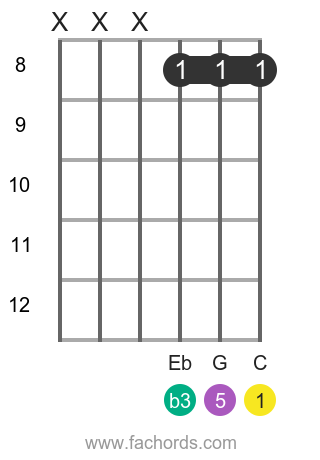 Position 12

Barre
Movable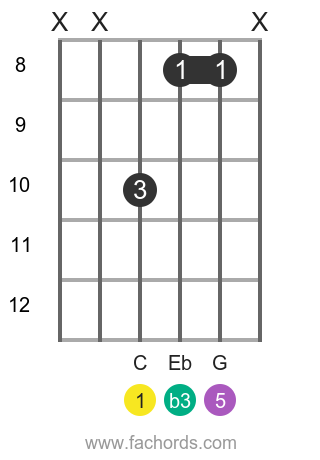 Position 13

Barre
Movable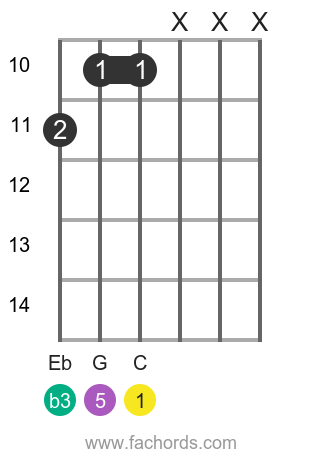 Position 14

Barre
Movable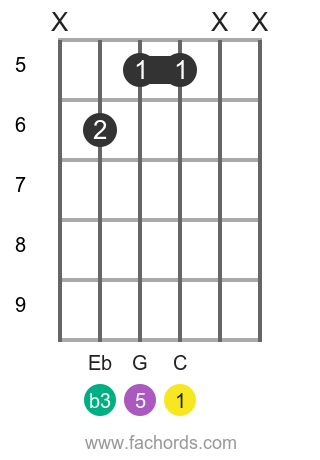 Position 15

Barre
Movable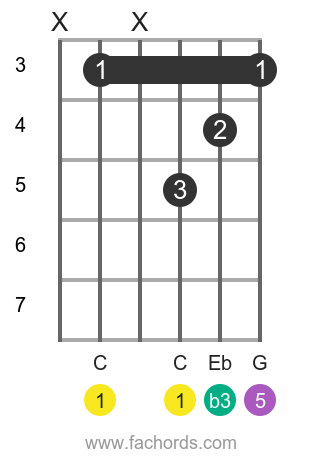 Position 16

Barre
Movable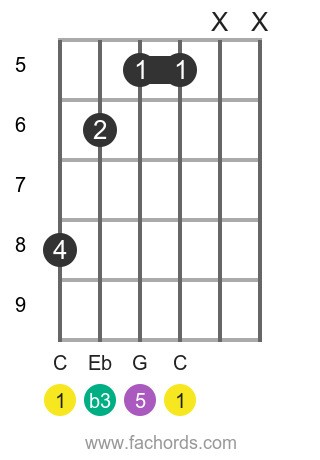 Position 17

Barre
Movable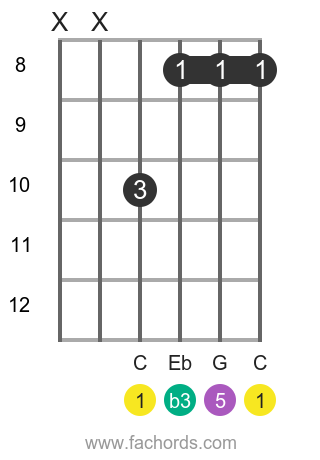 Position 18

Barre
Movable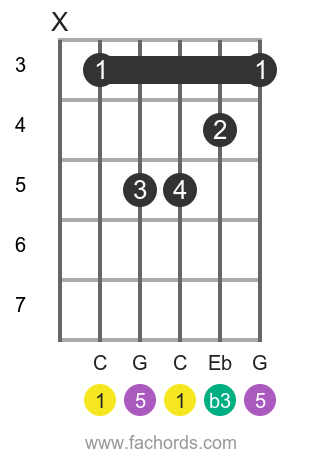 Position 19

Barre
Movable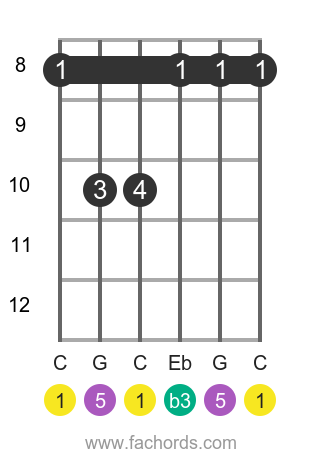 Want a printable pdf?
Download the Free Guitar Chords Chart Pdf
How to build the C m chord on guitar
Pick some of the tones from the fretboard map below and play this chord in new ways.