G# Guitar Chords
The Ultimate Guitar Chords Library
All G# guitar chords in this free and easy to use interactive chart. All chords, shapes and fingerings. Bonus: note names, tones and pdf chart for guitar beginners

Download the free Guitar Chords Chart in pdf format.
Major Chords
Augmented Chords
Minor Chords
Dominant Chords
Diminished Chords
Suspended/Power Chords
52 Chord Progressions | Learn How To Connect Chords and Create Great Songs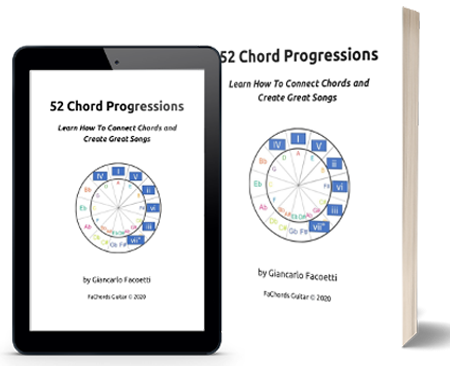 Do you know some chords, maybe many, but you're not sure how to play them together?
This ebook will show you 52 chord progressions, which are the foundation of many genres and styles of Western Music. Why 52?
The idea is to use this ebook for 1 year, studying thoroughly a chord progression each week, in all keys and chord voicings.
Before you know it you will be picking out progressions from songs on the radio!
Share with your fellow guitar players!
Questions or comments? Drop a line below!