Guitar Tricks Review
The Site That Invented Online Guitar Lessons
This is the second in this series of reviews of online guitar lessons and features 'GuitarTricks.com'.
Guitar Tricks is an online guitar course designed to teach the guitar, and so much more besides. It is right up there in the top sites for learning guitar, may even be the best. Personal preference may ultimately dictate which of the sites you prefer, but hey, when you get a full money back guarantee you have nothing to lose.
Quick review – We LOVE IT! Love the format and very easy navigation of this site, the quality and the step-by-step approach. Click Here To Visit Guitar Tricks
For my longer review read on and be inspired...
A brief look at the statistics on Guitar Tricks website tells us it was developed in 1998, has served over 2.0 million people! Is an award-winning, step-by-step curriculum and has a spectacular number of videos (11,000) and songs (over 700 reported – but I counted 899!).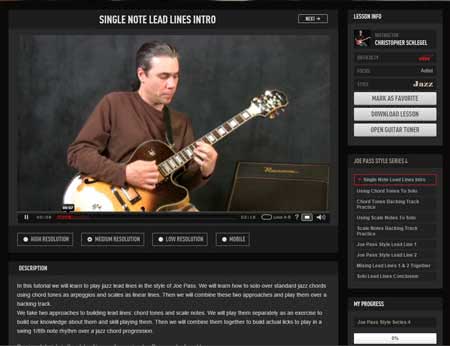 Thirty-two instructors make up the teaching Guitar Tricks team. Their bios make impressive reading as you would expect – songwriters, award winning musicians, live performers, sound engineers, producers, and more, most with several genres in their expertise.
You have full information on their pages as to which lessons and songs they teach on the site so if you like the style of one it is easy to find more of their lessons. With thirty-two in the mix you will be spoilt for choice.
I value reading reviews and feedback given by other users who have used any product I am considering so I had a good read of the first dozen or so on Guitar Tricks own site. Here are some of the interesting points raised:
1) Great forum
2) Praise for the 'Core Learning System'
3) Increased enthusiasm after using Guitar Tricks
4) Much less expensive than professional lessons
5) And one I found particularly encouraging... A professional in the music industry learning from it daily and loving it
Who is Guitar Tricks For?
Entering into the site and having a good look round reveals that it is almost easier to say who Guitar Tricks is NOT for. And basically that would be anyone who doesn't want to play the guitar.
But if you do want to learn or develop your guitar playing from wherever you are now (maybe a complete beginner who has yet to even obtain a guitar and has never held one, to a professional in the music industry) then Guitar Tricks has so much to offer you.
The first thing that I love about Guitar Tricks is that it is incredibly easy to navigate despite the vast amount of material on the site, and I mean easy. An introduction video on first joining gives a tour of the website and shows exactly where to go and how to get the most out of it.
The home page has four areas to click on and these form the backbone of the site
Beginner lessons
Experienced lessons
Learn to play songs
Learn styles of guitar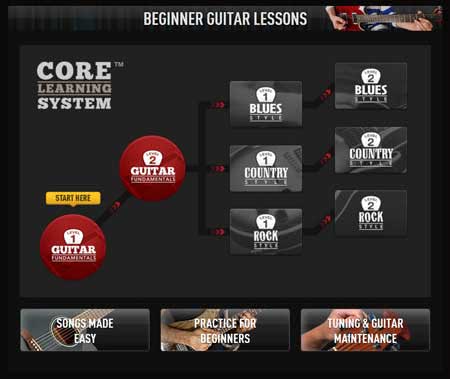 Guitar Tricks is described as a 'step-by-step curriculum' and it really does live up to that phrase. I appreciate the simplicity of the step-by-step nature in the structure of the site and the way all the classes and songs I watched were presented. You know exactly where to go next (although of course you are not limited to the pathway – you are free to go wherever you like and explore, return, repeat as much as you like).
The 'Core Learning System' – the structure, is made up of the beginner lessons and the experienced lessons so let's start there.
Guitar Fundamentals Part 1 – Lisa McCormick takes us through the very basics brilliantly from even how to sit with a guitar, buy a guitar, models, types, tuning and how guitars work in Chapter One.
Chapter Two – Beginning to play chords, easy songs continues over the next five chapters developing the essential, basic skills to play melodies, more chords, timing and rhythm, and honestly, the most phenomenal teaching on keys and the theory behind switching keys.
Guitar Fundamentals Part 2 covers power chords, scales, majors and minors, barre chords and an introduction into reading music.
A large selection (140+) of songs is available at this stage under the heading 'Songs Made Easy'. These are popular songs simplified for the student to begin to practise and develop. Perfect – that's why most people play, right? We want to play the songs we love and build more songs in our repertoire. All the crucial details are included like of how to set your guitar and amp for the specific sound/effect you want.
The 'Practice for Beginners' tab yields training exercises, and teaching on how and why regular practice is essential to learning the guitar.
The final tab is the 'Tuning and Maintenance' where the title speaks for itself!
This section is a thoroughly comprehensive beginner curriculum and I can't spot a thing left out it!
The second part of the Core Learning System sits here. Three genres are explored, each at two levels (1 and 2) – Blues, Country and Rock. Simply follow the arrow and move from Guitar Fundamentals Part 2 to Level 1 of your chosen genre.
Whilst the experienced lessons focus on the three genres specifically to take you from basic to advanced, further genres are accessed below in a tab called 'Styles'. (This is the same webpage accessed by the 4th area called 'Learn Styles of Guitar' on the home page.) The additional genres are Acoustic, Bluegrass, Classical, Funk and Soul, Jazz, Metal, Rockabilly, Surf, and finally, World.
Every type of technique you could ever need is found under Techniques from picking, bending, vibrato, acoustic finger-picking, hammer-ons/pull-offs, harmonics... It's all there.
'Artist Studies' here are a real highlight of this site. Twenty-nine 'In the Style of...' different artists are taught here, including The Edge, the great Albert King, AC/DC, BB King, Brian May, Eddie Van Halen and so many more. Pick your favourite and learn to play just like them. Includes all the information you could possibly need including set up your amp and guitar. The 'Practice' tab in the experienced lessons includes exercises to practice for the different genres. Again incredibly comprehensive and simple to get around.
You can see exactly what is on offer.
All things 'chords and scales', together with 'gear and tone' complete the experienced lessons.
The final main area of Guitar Tricks (although there are plenty of smaller areas packed full to brimming with treasure) is the 'Songs' vault.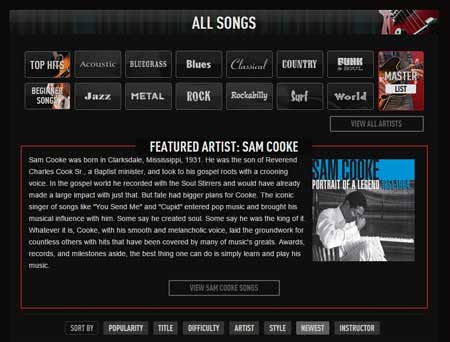 Here is an exceptional number and variety of songs taught including many classics like hits from The Rolling Stones, ZZ Top, Bobby Womack, The Beatles, The Eagles, for you to study, play, enjoy and be inspired by...
899 songs I counted – No shortage there then!
So impressed was I, that I have broken the list down for you to see the numbers per genre. As you can see some genres are more sparse than others but it does make for a fantastic library of songs, music and tuition. (And if a favourite song of yours is missing you can always go on the forum and request that they try to add it, baring in mind with all the legal requirements it takes at least six months to add!)
Acoustic 120+
Bluegrass 8
Blues 40+
Classical 20+
Country 80+
Funk and Soul 20+
Jazz 10
Metal 40+
Rock 180+
Rockabilly 5
Surf 9
World 6
And the list includes the 140+ stripped down versions for beginners.
At the time of writing the 'Top Hits' on the site include Hotel California (The Eagles), Sweet Home Alabama (Lynyrd Skynyrd), Yesterday (The Beatles) and More Than a Feeling (Boston).
One thing we especially liked here is the fact that there are filters for the huge choice of songs. This allows you to sort by: Genre, Popularity, Title, Difficulty, Artist, Style, Newness to site and Instructor
Each song is broken down into a number of lessons focusing on different sections of the song, culminating in a full performance demo. Jam to the backing track, and/or with the teacher, at the climax to the lessons. Lyrics, written music and tab notation all included.
I clicked on The Seeker by The Who, a two guitar piece, the lesson covered both guitars... So if you want to jam with friends or with the backing track/the teacher – All cool!
Note, songs can also be downloaded.
Split screen is used to maximise the demonstration, explanation and learning. Thorough background information is included.
Tracking your progress is done for you... Your last lesson clicked on is recorded for you to return to if you wish. Progression through the Core Learning System is shown clearly, lessons completed, song progress, favorites and recent history... It's all there for you. We really liked this feature and the ready availability of the info.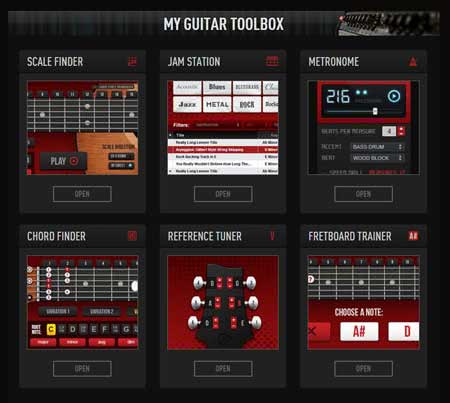 The 'Ultimate Scale Finder' does what it says on the tin, and really is the ultimate in scales – 20 types of scale – major (of course), dorian, harmonic minor, jazz minor and so forth... they are all here for your reference. Just click on the one you want and see the animated demo.
The 'Jam Station' – I confess I didn't even try counting how many backing tracks there are to choose from but it must run into the hundreds! All labelled so you can find the one which corresponds to what you are looking for in the curriculum.
Metronome (visual as well as auditory), chord finder, fretboard trainer (test yourself with this game, can you correctly name the notes on the frets of the guitar?) and the reference tuner, all present and correct as you expect.
This is a veritable hive of activity. Regular and frequent activity with a whole host of threads. Ask any questions, ask specific teachers on their threads, lesson Q and A... a lot of support right there.
In light of what can only be described as a fully comprehensive curriculum for both beginners and experienced players, Guitar Tricks has won me over.
With its massive wealth of step-by-step, progressive high-quality tuition that builds and includes so much great advice, tips and practice advice... I can confidently recommend it highly for beginners as well as more experienced players, who will surely not be disappointed.
At $19.95/month and with a risk free, full money-back guarantee period of 60 days it is well worth subscribing and giving it a very thorough road test.
Click on the button below to subscribe to Guitar Tricks, test it out and don't forget to let me know how you get on!
And one last thing...
For a comparison of Guitar Tricks with Jamplay (which featured in the first of this series of reviews), see my post GuitarTricks vs Jamplay Online Guitar Lessons Review, where I discuss which one is best for you.
Both Jamplay and Guitar Tricks are top of their game. They have many fantastic things in common and each appeal to a wide range of guitarists at all levels. There are some differences of course and these potentially make one more appealing to you than the other, so check out the post for more information there.
But remember, with both of them having full money-back guarantee periods you get to try them both out for yourself with no risk!
Disclosure: if you subscribe to Guitar Tricks, FaChords will get a small commission, but the cost to you is no different than if you'd bought it as normal. By donating this way, you receive an excellent guitar learning resource and help keep this site growing (that means new software tools, ebooks and resources, as always free for all). Thanks!
Is this helpful?
Share with your fellow guitar players!
Related posts: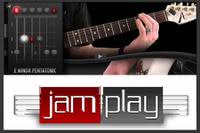 In our Jamplay review, we explored this popular online guitar lessons site to check the videos quality, how it is easy to use and what are its learning paths.. Read more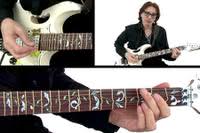 This guide shows you the best resources to learn guitar online. For a long time, we've been reviewing the best online guitar lessons for beginners to advanced guitar players: here are the top lesson sites that will help you teach yourself guitar. Free acoustic and electric video lessons included!.. Read more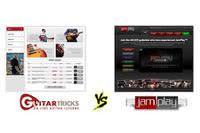 Analyzing and comparing Jamplay and GuitarTricks online guitar lessons: lessons quality, free trials, money back period, membership plans, pros and cons... Read more
Questions or comments? Drop a line below!