DVD Guitar Lessons by Gibson Learn and Master Guitar
Test Drive Review of the guitar course by Steve Krenz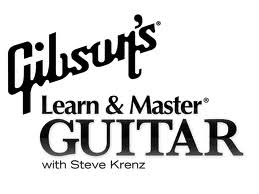 Learn & Master was started out of the need to provide comprehensive lessons in an age of over hyped, cheap, and mass produced learn at home courses. They don't just provide DVD guitar lessons, but also piano, drums, painting, photography, and even ballroom dancing.
That's right, if you have an interest in other topics beyond guitar they have you covered! However, for today we will be reviewing just their guitar learning course .
Now the most important aspect to remember about Learn & Master is that they only provide DVD courses , there are no streaming video lessons ! In this day and age that is rather surprising, but not everyone is a fan of the entire world running online. There are still analog lovers and landline users ! For most people this only offline availability is a deal breaker, but for some guitar students an at home DVD course may be in their best interest.
Perhaps you live in an area with poor Wi-Fi or internet service that makes streaming impossible. Maybe in your personal space where you wish to learn to play guitar there is no computer and only a TV. Or you may just simply be the "old school" type that has no interest in online courses, you may just prefer putting a DVD in and sitting down with your guitar . If the online world is to daunting that is understandable. (If that is the case than we are glad you stumbled upon this article!)
What's inside the Learn And Master DVD box
Lessons DVD, play along CD, hardcopy lessons book
When you order the Gibson's Learn & Master course you will receive 40 hours of instruction on 20 HD DVDs , 5 Jam-along CDs , 100+ page lesson book (they even allow you to download the pdf version for free here ) and unlimited access to the online student support site. You will learn the parts of the guitar, names of the strings, proper right and left hand technique, how to read tablature, and sheet music.
Other topics that are covered are foundational techniques like how to hold your guitar, how to hold your pick, and how to tune the guitar. It also has info on basic chords to begin with and moving onto more advanced chords. Later it moves on to techniques like hammer-ons , pull-offs , and bends .
Chords, strumming, scales, ear training
They also teach the student how to play chords in more than just the first position, you will learn the entire fretboard. They also teach strumming techniques , scales , soloing , and ear training . More advanced lessons involve deeper music theory , chord substitution tricks , fretboard note mastery , and chord voicings the pros use. The lessons also include finger exercises to build your hand strength up.
Styles: acoustic, electric, classical, fingerstyle

The styles covered on the Learn & Master DVD are acoustic guitar, electric , classical , fingerstyle and The Blues . They will show you styles like jazz , country and " chicken picken ", R&B , and funk guitar . There is also the jam along CD's that allow you to practice your new found knowledge and songs with an actual band.
All of the jam along songs are covered in the lesson book provided. These tracks also play at three different speeds (slow, medium, and fast). Some are specific songs like Jingle Bells and House of the Rising Sun , while others are power chord riffs and blues scales.
Is Learn And Master right for you?
While this course is strange for only offering DVD's it does have some positive aspects, especially for beginning guitarists . These lessons are setup perfectly for the absolute beginner. If you have just picked up a guitar or gifted someone a guitar these lessons are great.
Online, streaming video lessons alternatives
Websites like JamPlay and Guitar Tricks are wonderful sites for all levels of players, but for some they may seem daunting. When you are offered tens of thousands of lessons, hundreds of specific songs , and a very long list of genres, styles, and techniques, it can all seem overwhelming.
Leanr And Master is a good solid course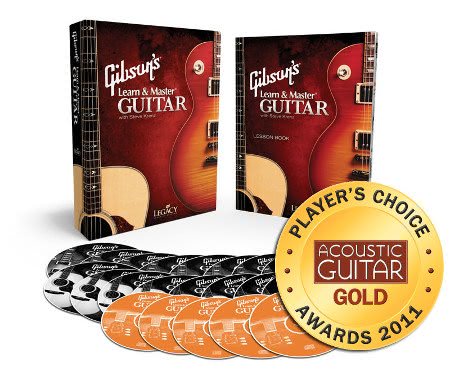 What Learn & Master does is take us back 20 years to simpler times when we would learn an instrument with a simple video that we would put in our TV at home .
You will often notice that many online guitar websites make very big promises, like learning guitar overnight or mastering the craft in an incredibly short period of time. Learn & Master straight up tells us that it will take lots of time and dedication by the student.
They also claim that their course is for advanced guitar players , but honestly you would likely have more luck with one of the online sites like JamPlay or Guitar Tricks . We don't see advanced players getting that much of their money worth in these DVD's. If you are a fan of the o ffline style of this course than you can go here for some sample lessons.
To get an idea of what you will be ordering since you will have to wait for the mail! (Which makes you wonder why they couldn't just post them all and charge a price for only online, but let's not question their reasoning!)
Prices and money back period
Learn & Master has a 60 day money back guarantee and is currently similarly priced as JamPlay and Guitar Tricks . Those online sites run roughly between $150 and $180 and Learn & Master is marked down from $250 to $164 (for a limited time only). Perhaps L&M have learned that people can just as easily get online lessons that they need to make their price more competitive.
Is Learn And Master a good fit for intermediate and advanced students?
At the end of the day most beginners, intermediate players, and advanced guitarists will find better instruction in places like JamPlay , Guitar Tricks , or TrueFire . It really will be a special type of guitar student who purchases the Learn & Master guitar series. It really does have great reviews.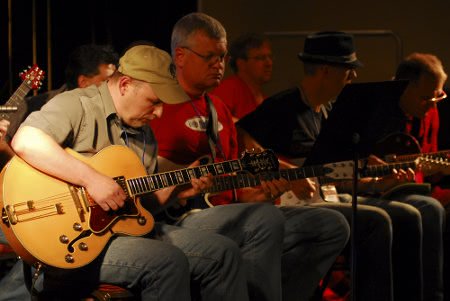 If you read the testimonials you will find many happy customers. Some give reasons as to why they didn't want to use online lessons while others do not. In some cases students were given the Learn & Master course as a holiday or birthday gif t.
Regardless though, many guitar students were very satisfied with the course and lessons. If you fit the type of guitar player that would prefer to order DVD's the reviews say you can't go wrong with Gibson's Learn & Master Guitar.
If you want to learn more (and even download a full complete lesson book for free!) check the links below: