TrueFire review
The planet's largest and most comprehensive selection of online guitar lessons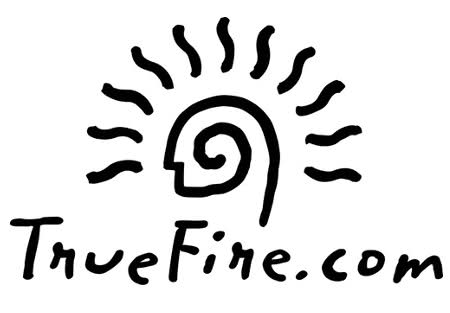 The tagline for TrueFire is practice smart and play hard ! The Guitar Player Magazine has called TrueFire "the planet's largest and most comprehensive selection of online guitar lessons."
Since they were founded in 1991, TrueFire has collaborated with over 600 educators to bring students of all skill levels top quality guitar tutorials.
They utilize Grammy winners and top session artists as teachers . Their courses are available in downloads , streaming video , iOS, and Android apps. And of course TrueFire is included in our top online guitar lessons sites list.
An endless source of guitar knowledge
TrueFire might very well have the greatest volume of content out there , they have an enormous amount of guitar lessons. While they have lessons for all skill levels, the massive quantity of lessons may not be the best place for beginners.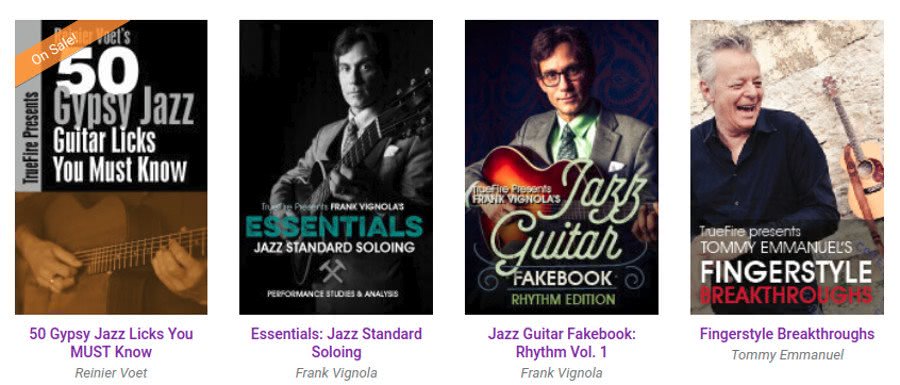 As a new guitar student it very likely that you will find TrueFire to be a bit daunting . For first time players and lower intermediate guitarists we would suggest sticking to the websites Guitar Tricks and JamPlay .
However if you are moving along in your guitar studies or especially advanced you will find the TrueFire portal to be a wonderful warehouse of guitar knowledge. They have over 30,000 lessons spread throughout 700 courses!
Personally, I enjoyed so much the course Alien Guitar Secrets by Steve Vai.
More Suited for Intermediate to Advanced Guitar Players
One reason TrueFire is not all that great for beginners is that they are setup as self-study courses with no step by step direction of how to proceed. As a beginner it is essential that you have a solid set of concrete how to's at the start.
In our experience TrueFire is a great place to go if you have a specific style in mind you want to learn. Say you have an urge to learn Rockabilly guitar , early country-western swing licks, popular funk guitar licks , or any genre that you happen to love. Here a video from the lesson series of Pat Martino:
While TrueFire will not teach you specific songs they will give you the basics of how to play all these styles . All musical genres have specific riffs, licks, chords, turnarounds, intros, and outros and this site can break all that down. They generally provide a great and likely well known teacher along with tabs and instructions for each genre.
Membership Prices and Free Trial
Of course they have a free trial membership that does not require a credit card and lasts for 30 days .
After the free trial the cost is $19 monthly and $119 annually . They do offer a lifetime membership of $1,199 , but that is clearly for the student who knows for sure they will spend years using this site.
The monthly and annual pass is far more realistic for most guitar students. After you sign up the site is pretty straightforward. You can choose your path of blues, jazz, rock, acoustic, country, or bass .
Once you choose your style you are into, it will take you to lessons starting with beginner and moving to advanced. If you immediately have a specific lesson in mind, perhaps hard rock and metal, you can go straight to it by clicking on " courses ."
What types of lessons Truefire provides
Besides genres you can also look up topics on rhythm, chords and progressions, techniques, scales and modes, slides , and even songwriting . Of course more lessons are available with a paid membership, but there are plenty of free lessons.
The free lessons are short and simple while the courses are more in depth. Some of the teachers use scripts while others just kind of wing it. The video is high quality and some lessons are taught by celebrities like Steve Vai , Tommy Emmanuel , Johnny Hilland , Pat Martino and and Larry Carlton ! The TrueFire video lesson interface is one of the best out there in online guitar instruction.
Like Guitar Tricks and JamPlay , TrueFire also offers a number of guitar learning tools . An online tuner, metronome, guitar chord charts, and a free jam track library.
This library has over 200 practice rhythm tracks in all styles, keys, tempos, and a lead sheet is provided. After you have spent some time watching a specific course you can take what you have learned and head over to the jam tracks to see how well you can improvise with your new found knowledge.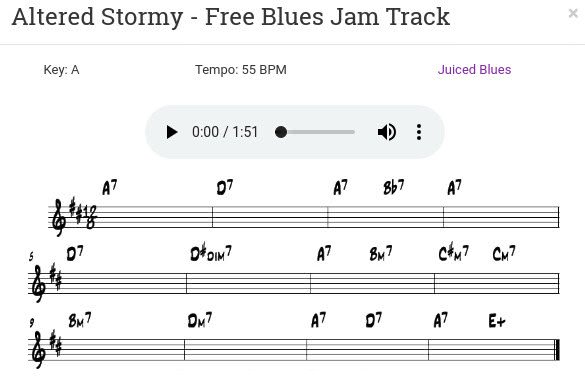 TrueFire also has a blog, The Punch-In , where you will find announcements, interviews, and new free lessons. They also have a student forum where you can ask questions and chat with other TrueFire members.
Along with the blog and forum they have an online digital magazine called the Riff Journal that focuses on artists and educators. You could spend your entire free trial month scouring this guitar website and you will not even come close to seeing all that it has.
So is TrueFire good for me? Pros and Cons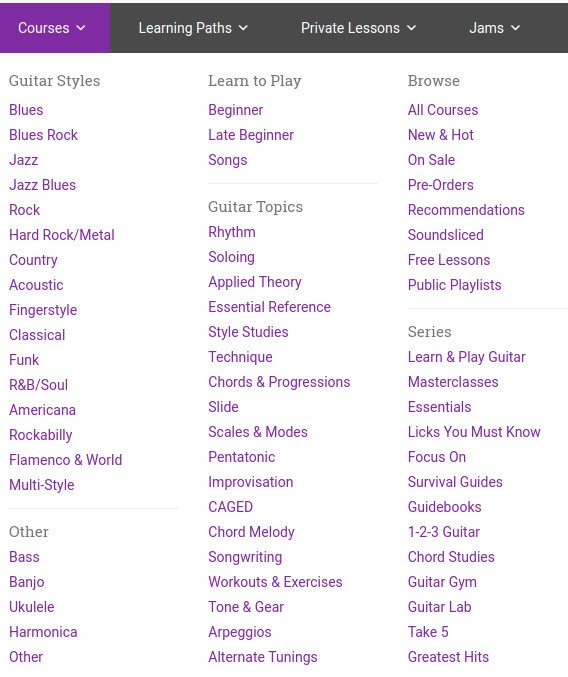 If you were to make a pros and cons of TrueFire vs other guitar sites, the list would really depend on your skill level and what you wish to accomplish . There really is nothing bad to say about TrueFire, it is a phenomenal site . Some people don't like the fact that it has few specific songs to learn , but most teachers will tell a student that it is better to learn how to play common riffs and scales in your favorite genre as opposed to a single song.
By learning the basics of that genre you will be able to eventually play many songs of your favorite artists. Another potential con would be lack of structure for beginners , but that may depend on your style of learning. If you are the guitar playing type that likes to jump right in, well TrueFire has you covered.
If you are literally just beginning guitar than stick with JamPlay and Guitar Tricks , however if you have been playing for a few months you can't go wrong with TrueFire.
For $19 a month it is absolutely worth it. Especially if you like to get lost down an educational rabbit hole. Just pick a style like blues or rock and start scanning the lessons, your biggest problem will be information overload .
TrueFire is a great way to get a solid foundation in a genre that will later allow you to jam and play along with a band whether you happen to know a specific song or not.
The Pros
Great variety of genre and style lessons
Superstar instructors
Awesome intermediate/advanced topics
The Cons
Too much options for a complete beginner
Risk of information overload
Final Verdict
Truefire is awesome for intermediate/advanced guitarists. For those who never picked up a guitar or are at beginner level, Guitar Tricks or Jamplay could be a better choice. To join Truefre, sign up for the free trial or get a monthly/annual all access pass and just see how much you will like such a comprehensive guitar learning website.