How To Learn Guitar Online
The Best Online Guitar Lessons For Beginners
Learning the guitar is not easy. You need things to fall in the right place: often you get stuck, you lose motivation, or things seem to be too much difficult. On Youtube, there are plenty of great lessons, but most of the time finding them is like to trying to find a needle in a haystack.
Beginners need a structured learning path!! (no wasted time and more results)
Many online guitar lessons lack structure: no difficulty levels, no categories, no step-by-step approach. Beginner guitarists need a proven, structured step-by-step learning program. Otherwise, you'll waste time searching for the right video than actually improving your skills. Here below you find a complete review of the two leading sites for structured guitar training, Jamplay and Guitar Tricks: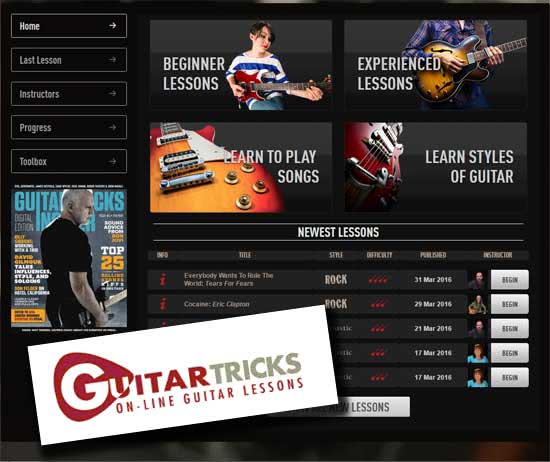 Full Guitar Tricks review
You will not find an easier system than Guitar Tricks
Thousands of step-by-step lessons, beginner to advanced
Focus on Blues, Rock and Country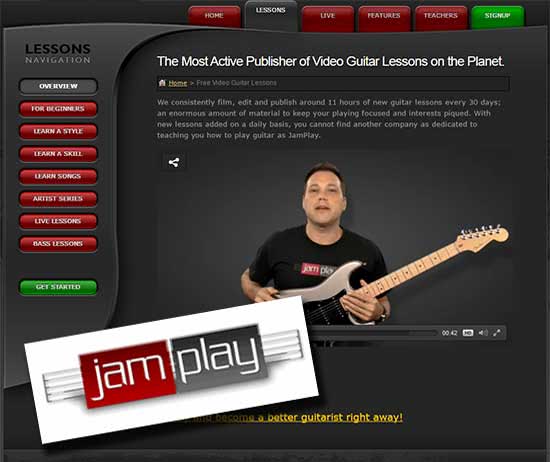 Complete Jamplay Tricks review
You'll learn a great variety of genres and styles
Learn from famous artists (Steve Stevens, Phil Keaggy, Andy Wood...)
Live lessons, chat and personalized feedback from instructors
Best Online Guitar Lessons For Beginners | Top Sites
Today anyone with a cheap webcam and a free video recording software can go online and present himself as a "guitar expert". While creating something for the community is a good thing, often these wannabe guitar teachers give wrong advice that cause wasted time and frustration.
So, to make your life easier, we have reviewed and selected the best online guitar lessons available today. All these lessons have been created by professional guitar teachers, are easy to understand and use a step-by-step approach that guarantees an optimal A to Z learning experience, with a lot of fun and no frustrations.
Jamplay and Guitar Tricks are definitely the leading sites for online guitar education. There are also other alternatives worth to mentioning. Here below the complete list of the top guitar training systems available today:
Top 6 Guitar Lessons Sites: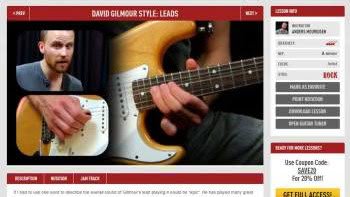 Guitar Tricks has courses for beginners, intermediate, and advanced players. It is clear if you have never played guitar you can get started right away on this site. They start with the basic explanations of tuning and holding positions and build into various styles of playing and picking. As usual they work on country and blues first as these are often the easiest for a beginning student.
Visit Guitar Tricks Guitar Tricks Review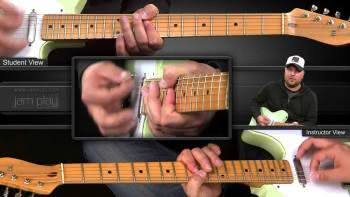 With Jamplay you will learn a great deal of different genres and techniques. Rock, Jazz, Heavy Metal, Flamenco and much more. Among their teachers, you'll find big names such as Ron Thal BumbleFoot, Steve Stevens, Don Ross. Recommended for who want to learn new genres and techniques.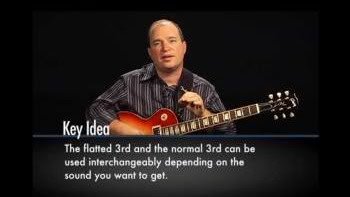 In 2018 there are guitar players that still like to learn offline, so for them Learn & Master is a great choice. Unlike the sites mentioned above, Learn & Master does not stream the lessons but you'll get a DVDs set and a lesson book (20 DVDs with 40 hours of instruction, 108 pages book, 5 jam-along cd). Steve Krenz will be your teacher for all the lessons, so be sure to check if you like his teaching style. Personally, I think that Learn & Master, especially the Blues series, is one of the best guitar tutorial dvd.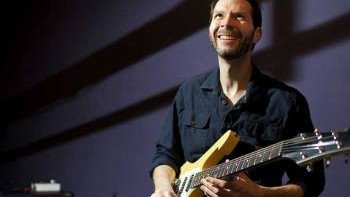 ArtistWorks is an online music school that covers several instruments. For the guitar courses, it hires amazing instructors such as Paul Gilbert or Brian Sutton. The unique feature of ArtistWorks is their Video Exchange System: you can submit your recorded videos directly to your instructor and get personalized feedback from him. This is a huge plus, as online lessons interaction often relies only on comments and forums.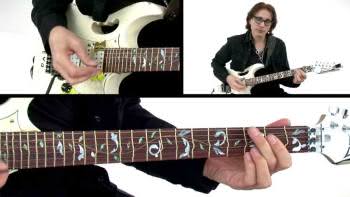 TrueFire is the biggest site for online guitar lessons. It has a huge catalog composed of 25.000 video tutorials, spanning every genre and style. TrueFire is not the best choice for a beginner, as it lacks of a step-by-step learning path, unlike GuitarTricks and Jamplay. Such impressive amount of guitar knowledge could be overwhelming for those who are at the beginning. For more advanced students, there are gems like the Steve Vai Course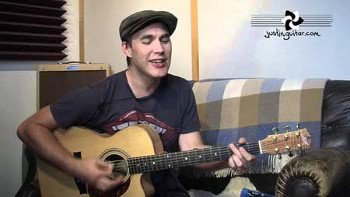 This site is the work of a single guy, Justin Sandercoe, and of course is not totally fair to compare it to the professional tuition sites listed above, that have big staff and funds. However, it's worth a mention, because it provides you with good and free video lessons. Even if you are not required to pay anything if you watch the lessons, the site is run on an "honor-based system", so, if you use Justinguitar, you should support the project and buy his books.
How And Why We Made This Guide
This guide has been created to help you pick the best online guitar lessons for you. In fact, on Youtube, Reddit and other places there exist thousands of guitar tutorials useful to teach yourself guitar for free, some good, some less. With such a load of information, it's easy to feel overwhelmed, but overall the big risk is to not being able to discriminate a helpful lesson from a bad one. And this is a big waste of time or, worse, could teach you wrong habits that will cause injuries. With the resources listed on this page, you can safely teach yourself guitar.
Disclosure: if you subscribe to one of the sites listed below, in some case FaChords will get a small commission, but the cost to you is no different than if you'd bought it as normal. By donating this way, you receive an excellent guitar learning resource and help keep this site growing (that means new software tools, ebooks and resources, as always free for all). Thanks!
References used to make this list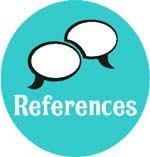 We put a lot of hours in researching and testing a great number of different guitar lessons sites and learning systems. We collected feedback from guitar students of all levels and genres, and also from independent review companies such as Better Business Berearu and Trustpilot. We are absolutely sure that on this list you find only the highest quality guitar tuition sites.
The Best Way To Teach Yourself Guitar | Some tips
Now you know some of the best guitar learning resources out there. We wanted to give you some final suggestions that will be helpful for getting the most out of your tuition system. We already discussed the most effective way to practice the guitar in a past article. If you want to take guitar seriously and improve your skills without wasted time, here are some strategies that we recommended to follow:
1) Practice in small, high-focused sessions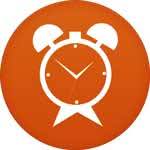 We live in the Era of Distraction and information overload (how many time have you checked your phone while reading this guide?). Here's a tip for making your practice sessions effective: set a timer for 25 minutes, turn off all the notifications, and focus only on the lesson. Your brain (and your fingers) works at its best if you focus on one single thing. When the timer is elapsed, you can relax and even surf a bit the Web. You'll be surprised how this simple technique is effective for improving your guitar skills.
2) Be consistent with your practice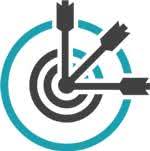 When you are playing the guitar, you use your short term memory and long term memory. The best way to train memory is through repetitions. Neuroscience researchers taught us that the so-called spaced repetitions are the key for a great long term memory. Try to follow a regular practice schedule, and your memory will surprise you!
3) Practice slow and perfect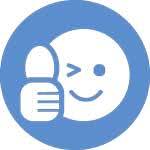 Try to be always aware of every mistake you make. Go slow, play each single note perfectly, and if you make a mistake, try to understand what happened. If you keep your brain focused on a perfect practice, you'll achieve better results in shorter time.
The real secret for learning how to play the guitar is to find the program that works for you and stick with it. So pick the site that better resonates with you, put in a bit of hard work, and soon you'll find yourself smiling while playing your favorite music easily.
You have to stick with it. Sometimes, you are going to be so frustrated you want to give up the guitar — you'll hate the guitar. But all of this is just a part of learning, because if you stick with it, you're going to be rewarded."
This advice was given by Jimi Hendrix in 1968. Today in 2018 there is an incredible amount of tools and resources for learning how to play the guitar online, so we have no excuses!
So What Are The Best Online Guitar Lessons for Me?
We have just seen the most popular guitar lesson sites on the Web. So many things to learn, so little time! Before joining a site, you should consider your current experience level. Here are some final thoughts to help you decide the best lessons site for you:

I'm Gianca, I live in Italy, I'm a guitar teacher and a software engineer. I originally created this site to be a tool for my students, and now it's available, for free, to anyone looking to get better at guitar. Brought to life in 2012, FaChords Guitar Lessons & Software has reached over 4 million views. It provides interactive learning software, tutorials and lessons to help the guitar worldwide community.
I wish you every success on your guitar journey!
Is this helpful?
Share with your fellow guitar players!
Related posts: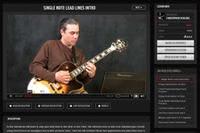 Looking for info on GuitarTricks? This detailed review will show you the main features this popular online guitar lessons site. Learn what songs, styles, genres and techniques you can learn.. Read more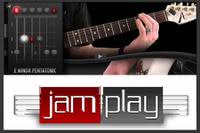 In our Jamplay review, we explored this popular online guitar lessons site to check the videos quality, how it is easy to use and what are its learning paths.. Read more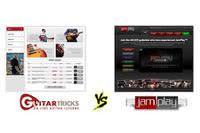 Analyzing and comparing Jamplay and GuitarTricks online guitar lessons: lessons quality, free trials, money back period, membership plans, pros and cons... Read more
Questions or comments? Drop a line below!